Trick Me Level 235 Answer Solutions
Trick Me level 235 hints and solutions are provided in this Page. Scroll down to find the detailed image hints.
My review: Test your IQ to have lots of fun with this tricky puzzle game. The game demands unique solutions that the users cannot even imagine a very tricky game to play with your friends and siblings. Focus on the details & Try different mechanics.
Note: If your level is different then this level, then Click Below Button to find the correct level or scroll down to see a list of all levels with the name.
Trick Me Level 235:
Trick Me Level 235:
Hint: make to goal smaller by pinching with your 2 fingers, so that ronaldo cannot score a goal.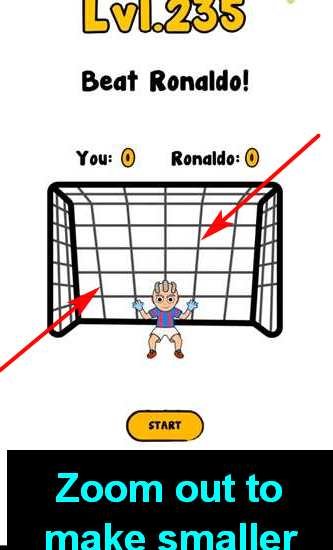 Note: Remember to visit PuzzleGameMaster.com from search results when you stuck at any level to support me.
Find trick me Next level from this list:
If you have any Problem regarding the solution of trick me level 235, then please comment I will help you as soon as possible.