Tricky Test 2 Level 11 Answer Solution
Tricky Test 2 Level 11 Solution hint is provided in this page, scroll below to find the image hint corresponding to tricky test 2 level 11.
Note: Please visit PuzzleGameMaster.com from search results when you get stuck at any level, Thanks.
Tricky Test 2 level 11:
Tricky test 2 Level 11
If you overtake 3rs person, you will take his position so you will be 3rd. Tap '3rd' in the question text.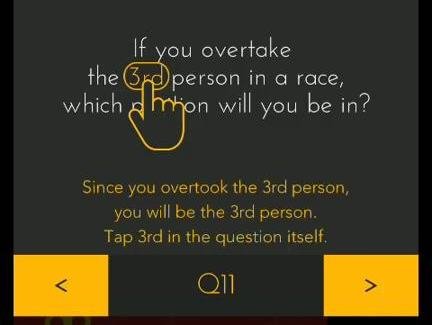 Find next level from This List:
If the solutions are incorrect then please comment. I will correct them as soon as possible.
Download this game: Android iOS
My review: You Have to think outside the box, Each and every puzzle is designed to make you feel stupid on many occasions. The questions are clever, tricky and fun to answer. The game does have clues and hints.  Some of the puzzles required logic, some skill, and other imagination. Overall great game if you can bear the failure at each level.