USA Adventure 2 Level 2 Solved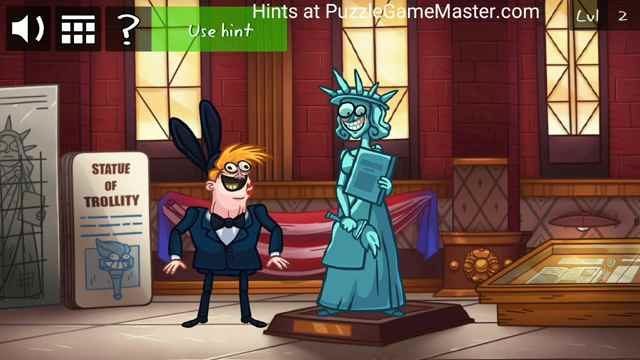 Troll face USA adventure 2 level 2 detailed walkthrough Guide with images and video solutions. Scroll below to find out.
Spilgames is back with another Trollface game related to USA named USA Adventure 2. Troll face quest USA Adventure is most funny and relatable as a country. This American-themed version of Troll Face Quest with many fun-filled brain-twisting puzzles that will make you ROFL.
For All Other Levels of USA Adventure 2 Click Here
TrollFace Quest USA Adventure 2 Level 2:
(For Video Hints Scroll Down)
Hint 1: Long tap on trump.
Hint 2: Tap once on the statue of unity then tap on trump.
Hint 3: Tap on trump to clear the level.
If you are unable to understand these hints, then you must watch the video below for better understanding:
Video guide for troll quest USA adventure 2 level 2:
Troll Face Quest USA Adventure 2 All Levels
If you have any doubt/problem regarding the solutions I provided, You can comment on this post. I will try to help you as soon as possible.