Game of Words Answers All Levels/Rank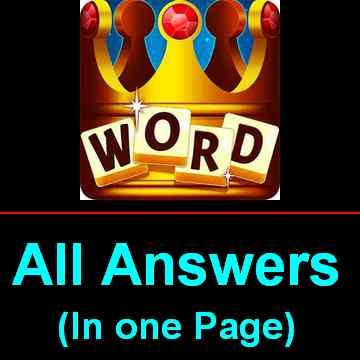 Game of Words app answers to rank (1-1000) are posted on this page. This game is developed by DreamLoft and available for free at PlayStore.
Game of Words is an absolutely addictive word cross game with word puzzle involving crosswords. You have to by combining word finding and crossword puzzle fun in an amazing word game adventure to find hidden words & Fill up all the blanks words horizontally and vertically. Awesome game very challenging good to play when you are bored. We will help you through this whole game, Just follow the answer given below.
Note: Bookmark this page or remember to visit PuzzleGameMaster.com from search results, when you search for 'Game of Words Answers' on the internet to support my hard work. You will find all 1000+ levels on this single page.
Game Of Words Beginner Rank 1 Answers: Lift Fit Lit
Game Of Words Beginner Rank 2 Answers: Pain Pan Nap Pin
Game Of Words Amateur Rank 3 Answers: Owl Bow Blow Low Bowl
Game Of Words Amateur Rank 4 Answers: Was Swap Saw Spa Paw Wasp Sap
Game Of Words Rank 5 Answers: Nape Pen Ape Nap Pea Pane Pan
Game Of Words Amateur Rank 6 Answers: Hat Eat Hate Ate Heat Tea The
Game Of Words Rank 7 Answers: Tied Tie Die Diet Tide Edit
Game Of Words Novice Rank 8 Answers: Rap Warp Paw Wrap War Raw
Game Of Words Rank 9 Answers: Tea Ate Eat Fat Feat Fate
Game Of Words Rank 10 Answers: Net One Ten Tone Not Toe Note
Game Of Words Rank 11 Answers: Orb Ore Bore Robe Roe Rob
Game Of Words Novice Rank 12 Answers: Ear Awe Wear Ware War Raw Are
Game Of Words Explorer Rank 13 Answers: Are Ear Era Dare Red Dear Read
Game Of Words Rank 14 Answers: Snow Now Sown Son Sow Own
Game Of Words Explorer Rank 15 Answers: List Lit Sit Its Silt Slit
Game Of Words Explorer Rank 16 Answers: Tend Ten Net End Dent Den
Game Of Words Rank 17 Answers: Span Sap Snap Pan Spa Nap
Game Of Words Rank 18 Answers: One Node Nod Done Doe End Den
Game Of Words Explorer Rank 19 Answers: Ate Bat Tab Beat Eat Bet Beta Tea
Game Of Words Rank 20 Answers: Note Neon Toe Not One None Tone Ten Net
Game Of Words Rank 21 Answers: Deaf Dame Fade Fad Fame Dam Mad Famed Made
Game Of Words Rank 22 Answers: Leaf Leak Elf Flea Flake Ale Fake Lake Flak
Game Of Words Rank 23 Answers: Curl Cruel Rule Lure Rue Clue Cure Ulcer Cue
Game Of Words Adventurer Rank 24 Answers: True Rue Curt Cute Rut Cut Cue Truce Cure
Game Of Words Adventurer Rank 25 Answers: Dry Yard Dairy Airy Arid Raid Day Diary Ray Rid
Game Of Words Rank 26 Answers: Bale Bag Gel Able Leg Beg Lag Gale
Game Of Words Adventurer Rank 27 Answers: File Flies Lie Elf Isle Self Life
Game Of Words Rank 28 Answers: Rifle Fire Elf File Rife Lie Fir Life
Game Of Words Adventurer Rank 29 Answers: Chap Cape Ape Cheap Ache Heap Peach Each Pace Pea
Game Of Words Adventurer Rank 30 Answers: Lie Aisle Sea Sale Ale Isle Seal Sail
Game Of Words Adventurer Rank 31 Answers: Ethos Set Hot The Host She Shoe Shot Those Hose
Game Of Words Adventurer Rank 32 Answers: Hid Rid Dire Hired Hire Hide Her Ride Heir Herd
Game Of Words Rank 33 Answers: Pat Chat Patch Pact Cap Apt Hat Chap Tap Path
Game Of Words Adventurer Rank 34 Answers: Per Nor Open Roe Pore Pen Prone Ore Rope
Game Of Words Adventurer Rank 35 Answers: Meal Lame Beam Balm Able Male Elm Lamb Blame Bale
Game Of Words Adventurer Rank 36 Answers: Art Fat Draft Aft Dart Far Raft Fad
Game Of Words Adventurer Rank 37 Answers: Ion Tip Tin N*p Into Pint Point Pin
Game Of Words Rank 38 Answers: Sue Sued Fed Due Use Fuse Feud Fused Used
Game Of Words Adventurer Rank 39 Answers: Muse Rue Ruse Sue User Sure Sum Use Rum Serum
Game Of Words Student Rank 40 Answers: Lag Girl Lair Rag Rail Grail Rig Liar Air
Game Of Words Student Rank 41 Answers: Aim Lie Male Mile Lime Meal Mail Email Lame Elm
Game Of Words Rank 42 Answers: Plump Lump Pump Pulp Pup Plum
Game Of Words Student Rank 43 Answers: Bran Air Bar Barn Ran Brain Bin Rain Bra
Game Of Words Student Rank 44 Answers: Pie Pier Mire Prime Ripe Per Rim Perm Rip Prim
Game Of Words Rank 45 Answers: Ale Bale Able Elf Fable Leaf Flea
Game Of Words Rank 46 Answers: Howl Hew Whole Who How Low Hole Owl
Game Of Words Rank 47 Answers: End Diner Dine Dire Den Rein Din Rid Rind Ride
Game Of Words Student Rank 48 Answers: The Ore Her Tore Toe Other Hero Hot
Game Of Words Student Rank 49 Answers: Halo Oath Halt Lot Alto Loath Hat Hot
Game Of Words Student Rank 50 Answers: Else Ale Seal Sale See Easel Sea Lease Eels Ease
Game Of Words Student Rank 51 Answers: Tree Teem Meet Met Term Mere Meter Tee
Game Of Words Student Rank 52 Answers: Ark Fake Far Fare Freak Ear Fear Era Are Rake
Game Of Words Student Rank 53 Answers: Gear Rage Age Grave Rave Ear Rag Gave Are Era
Game Of Words Student Rank 54 Answers: Bow Brow Now Orb Own Worn Born Brown Rob
Game Of Words Student Rank 55 Answers: Fro Torn Not Fort Oft Rot For Front Font
Game Of Words Rank 56 Answers: Den None Doe Node Neon Nod One Done End
Game Of Words Rank 57 Answers: Pen Ripen Pie Pine Rip Pin Rein Pier N*p Ripe
Game Of Words Student Rank 58 Answers: Far Fray Fir Airy Fairy Ray Fry Fair
Game Of Words Rank 59 Answers: Feet Let Flee Fleet Tee Left Fee Eel Feel Felt
Game Of Words Rank 60 Answers: Mused Mud Sum Sue Muse Used Sued Emu Use
Game Of Words Graduate Rank 61 Answers: Pod Tap Adopt Atop Toad Dot Pad Pat
Game Of Words Rank 62 Answers: Unmet Men Mute Menu Met Net Emu Nut Tune
Game Of Words Rank 63 Answers: Veto Vet Vote Toe Ore Over Rot Tore Overt Voter
Game Of Words Rank 64 Answers: Hate Head Heat Death Eat Had Hated Date Ate Tea
Game Of Words Graduate Rank 65 Answers: Rat Lair Trail Rail Art Air Tail Liar Trial
Game Of Words Graduate Rank 66 Answers: Dash Sad Shed Had Head Has Ash Shade She
Game Of Words Graduate Rank 67 Answers: Rival Via Viral Air Rail Liar Lair Vial
Game Of Words Graduate Rank 68 Answers: Dice Tied Tide Ice Diet Cited Cite Iced Edict Edit
Game Of Words Graduate Rank 69 Answers: Oft Loaf Foal Alto Aloft Fat Loft Float Flat
Game Of Words Graduate Rank 70 Answers: Mark Mar Ark Are Arm Ram Rake Maker Mare Make
Game Of Words Graduate Rank 71 Answers: Woken Knew New Own Woke Owe Now Know Woe
Game Of Words Graduate Rank 72 Answers: Arch Cash Scar Ash Rash Sac Car Has Crash Arc
Game Of Words Rank 73 Answers: One Once Con Ocean Can Acne Canoe Ace Cane Cone
Game Of Words Graduate Rank 74 Answers: Darn Ran Adorn Rod Ado Road Oar And
Game Of Words Rank 75 Answers: Van Vine Vane Vie Naive Vein Via Vain
Game Of Words Graduate Rank 76 Answers: Slot Toe Lest Lost Let Stole Lose Set Sole Lots
Game Of Words Rank 77 Answers: Ale Label Bell Bale All Able Ball
Game Of Words Graduate Rank 78 Answers: Sow Son Now Snow Sown Worn Sworn Own Row
Game Of Words Graduate Rank 79 Answers: Torn Noir Iron Ion Into Intro Not Riot Trio Tin
Game Of Words Rank 80 Answers: Talk Last Salt Ask Stalk Sat Task
Game Of Words Tutor Rank 81 Answers: Air Lair Bar Bail Liar Rail Libra Rib Bra
Game Of Words Tutor Rank 82 Answers: Use She Her Hue User Rush Ruse Sure Sue Usher
Game Of Words Tutor Rank 83 Answers: Vale Lane Van Vane Veal Lean Navel
Game Of Words Tutor Rank 84 Answers: Tea Eaten Ate Neat Net Teen Ten
Game Of Words Tutor Rank 85 Answers: Lean One Alone Loan Lone Ale Lane
Game Of Words Rank 86 Answers: Wrap Prawn Warp War Pawn Rap Pan Warn Paw Nap
Game Of Words Tutor Rank 87 Answers: Slot Tool Soot Loot Lost Solo Lots Stool Too
Game Of Words Tutor Rank 88 Answers: Lid Idle Lied Pile Led Lip Piled Pie Dip
Game Of Words Rank 89 Answers: Idle Lied Wed Wild Dew Wield Lid Die Led Wide
Game Of Words Tutor Rank 90 Answers: Foe Not Tone Font Note Often Oft Net Fen
Game Of Words Rank 91 Answers: Are Era Aware Raw War Ear Ware Wear Area
Game Of Words Rank 92 Answers: Ado Rid Aid Raid Arid Radio Road Oar Rod
Game Of Words Tutor Rank 93 Answers: Leaf Safe Sale Ale Elf Seal Flea Self Sea False
Game Of Words Rank 94 Answers: Track Cat Tack Cart Act Rat Rack Car Art
Game Of Words Tutor Rank 95 Answers: Tab Bath Act Batch Cat Bat Cab Chat
Game Of Words Tutor Rank 96 Answers: Sun Sung Sing Sign Gin Gun Suing Snug Sin Using
Game Of Words Tutor Rank 97 Answers: Host Hot Shot Lots Sloth Lost Slot
Game Of Words Tutor Rank 98 Answers: Calf Coal Focal Cola Loaf Foal
Game Of Words Tutor Rank 99 Answers: Den Nut Dent Due Duet Tuned End Tend Tune Dune
Game Of Words Scholar Rank 100 Answers: Wore Owe Lower Lore Row Owl Low Role Woe
Game Of Words Scholar Rank 101 Answers: Over Role Lover Roe Ore Lore Love Vole
Game Of Words Scholar Rank 102 Answers: Dope Pet Dot Poet Top Pod Opted Depot
Game Of Words Scholar Rank 103 Answers: Ore Roe Sole Rose Role Lose Sore Loser Lore
Game Of Words Rank 104 Answers: Male Fame Flame Flea Leaf Lame Meal
Game Of Words Scholar Rank 105 Answers: Cider Ride Rid Die Iced Dice Ice Dire Rice Cried
Game Of Words Scholar Rank 106 Answers: Tin Pint Put Punt Pit Tip Input Unit Pin
Game Of Words Scholar Rank 107 Answers: Load Loud Ado Aloud Duo Dual Old
Game Of Words Rank 108 Answers: Trot Trout Tutor Our Rout Tour Rut Out
Game Of Words Scholar Rank 109 Answers: Gild Dig Gel Lied Lid Glide Led Leg Idle
Game Of Words Rank 110 Answers: Lace Ache Each Leach Heal Ace Ale
Game Of Words Scholar Rank 111 Answers: Wide Wed Pew Pie Dip Wiped Wipe Dew
Game Of Words Scholar Rank 112 Answers: Bet Tire Rib Tribe Rite Tie Tier Bite Bit
Game Of Words Scholar Rank 113 Answers: Dove Moved Move Doe Mode Ode Dome
Game Of Words Scholar Rank 114 Answers: Grit Tier Rig Get Tie Tiger Tire Rite
Game Of Words Scholar Rank 115 Answers: Breed Bed Reed Red Bee Deer Beer Bred
Game Of Words Rank 116 Answers: Hope Cope Chop Hop Epoch Echo Cop
Game Of Words Scholar Rank 117 Answers: Top Pilot Toil Tip Lot Plot Lip
Game Of Words Scholar Rank 118 Answers: Met Them Hem Teem Tee The Theme Meet
Game Of Words Scholar Rank 119 Answers: Bead Baked Dab Bade Bed Beak Bake Bad
Game Of Words Researcher Rank 120 Answers: Lace Ace Came Meal Mace Calm Lame Camel Male
Game Of Words Rank 121 Answers: Clean Can Lace Lance Lane Cane Lean Ace Clan Acne
Game Of Words Rank 122 Answers: Ore Row Owe Worm Woe Mower Wore More Mow
Game Of Words Researcher Rank 123 Answers: Rot Term Metro Toe Tome Met More Roe Ore Tore
Game Of Words Researcher Rank 124 Answers: Lap Amply Lay May Palm Lamp Map Pay Play
Game Of Words Researcher Rank 125 Answers: Weak Ate Awe Wet Tweak Wake Eat Tea Take Teak
Game Of Words Rank 126 Answers: Rink Ink Kid Drink Rid Kin Kind Din Rind
Game Of Words Researcher Rank 127 Answers: Our Rogue Rouge Rug Gore Urge Euro Ego Rue
Game Of Words Researcher Rank 128 Answers: Borne Robe Rob Roe One Bone Ore Orb Born Bore
Game Of Words Researcher Rank 129 Answers: Oar Orc Rock Oak Croak Car Arc Cork Rack
Game Of Words Researcher Rank 130 Answers: Sac Lace Ace Scale Seal Sale Case Sea
Game Of Words Researcher Rank 131 Answers: Spam Map Mass Pass Sap Spasm Spa
Game Of Words Researcher Rank 132 Answers: Camp Calm Cap Lap Lamp Palm Map Clamp Clap
Game Of Words Rank 133 Answers: Has Cask Shack Ash Ask Hack Cash Sack
Game Of Words Rank 134 Answers: Ant Hut Hat Hunt Haunt Tuna Tan Than Nut
Game Of Words Researcher Rank 135 Answers: South Oust Host Shout Thus Hot Shut Out Shot Hut
Game Of Words Rank 136 Answers: Per Rope Pew Prow Pore Woe Wore Power Row Owe
Game Of Words Rank 137 Answers: Doe Mold Dome Old Model Mole Led Mode Dole
Game Of Words Researcher Rank 138 Answers: Goat Tag Goal Alto Lot Gloat Log Got Ago
Game Of Words Researcher Rank 139 Answers: Rue Rule Red Due Rude Ruled Lure Led Duel Lured
Game Of Words Rank 140 Answers: Gun Gut Nut Rug Run Turn Grunt Rung
Game Of Words Rank 141 Answers: Seep Sped See Speed Deep Seed
Game Of Words Rank 142 Answers: Lip Peril Lie Ripe Pier Pile Pie Rip Per
Game Of Words Professor Rank 143 Answers: Coma Came Cameo Ace Come Mace
Game Of Words Rank 144 Answers: Lock Oak Cloak Cola Lack Coal
Game Of Words Professor Rank 145 Answers: Bar Bear Bra Rave Brave Are Bare Verb
Game Of Words Rank 146 Answers: Ion Rig Ring Nor Iron Groin Gin Grin Noir
Game Of Words Professor Rank 147 Answers: Heal Vale Have Halve Ale Veal
Game Of Words Professor Rank 148 Answers: Dent Trend Ten Tend Rent Net Den End Red
Game Of Words Professor Rank 149 Answers: Due End Rune Rue Under Run Rude Dune Urn
Game Of Words Rank 150 Answers: Over Dove Drove Rode Ode Rod Ore Red Doe
Game Of Words Professor Rank 151 Answers: Ale Lean Ankle Leak Lane Lake
Game Of Words Professor Rank 152 Answers: Fuel Let Flu Flue Elf Left Flute Felt
Game Of Words Professor Rank 153 Answers: Ale Dale Day Delay Lay Led Lead Lady Dye Deal
Game Of Words Rank 154 Answers: Rank Ran And Drank Dank Ark Dark Darn
Game Of Words Professor Rank 155 Answers: Woe Dove Wed Vow Wove Vowed Dew Owe Owed
Game Of Words Professor Rank 156 Answers: His Sigh Sit Gist This Sight Hits Its
Game Of Words Rank 157 Answers: Rite Tire Wit Write Wet Weir Tie Wire Tier Writ
Game Of Words Professor Rank 158 Answers: Nail Lie Lien Lain Lane Alien Line Ale Lean Nil
Game Of Words Professor Rank 159 Answers: Met Mop Tome Poet Pot Tempo Top Poem Pet
Game Of Words Esteemed Rank 160 Answers: Moot Room Rot Root Motor Moor Too
Game Of Words Rank 161 Answers: Feed Free Defer Deer Fed Freed Red Reef Reed Fee
Game Of Words Rank 162 Answers: Gun Sung Slung Slug Sun Snug Lung
Game Of Words Esteemed Rank 163 Answers: Foe Fore Ego Forge For Gore Frog Fro Fog
Game Of Words Esteemed Rank 164 Answers: Debt Tub Dub Debut Tube Duet But Bud Bet
Game Of Words Esteemed Rank 165 Answers: Liar Lair Air Fair Far Fir Flair Fail Frail Rail
Game Of Words Rank 166 Answers: Ten Tone Omen Not Tome Note Net Met Men
Game Of Words Esteemed Rank 167 Answers: Dam Mad Maid Mat Amid Mid Admit Dim
Game Of Words Esteemed Rank 168 Answers: Drawn War Draw Dawn Raw Warn Ward Wad Wand
Game Of Words Esteemed Rank 169 Answers: Lied Led Liked Like Kid Lid Die Idle Ilk
Game Of Words Esteemed Rank 170 Answers: Read Are Drake Rake Dark Dear Dare Raked Ark Ear
Game Of Words Esteemed Rank 171 Answers: Car Arc Mach Cram March Arch Harm Arm Charm Ham
Game Of Words Esteemed Rank 172 Answers: Has Sham Scam Mash Ash Ham Chasm Cash Mach
Game Of Words Esteemed Rank 173 Answers: Dad Aid Add Died Idea Did Aide Die Dead Aided
Game Of Words Esteemed Rank 174 Answers: Rid Acid Raid Arc Card Arid Car Acrid Air Aid
Game Of Words Esteemed Rank 175 Answers: Hire Tier Their Tie Tire The Heir Rite Her
Game Of Words Rank 176 Answers: Dare Dread Are Dared Dead Read Dear Ear Add Dad
Game Of Words Esteemed Rank 177 Answers: Idea Abide Aid Bade Bad Bead Bed Aide Bid Dab
Game Of Words Esteemed Rank 178 Answers: Own Vow Oven Now New Woven Wove Owe
Game Of Words Esteemed Rank 179 Answers: Arc Orc Roam Arm Car Coma Macro Cram Oar
Game Of Words Enlightened Rank 180 Answers: Arm Ram Roam Oar Mar Manor Man Roman Moan Norm
Game Of Words Enlightened Rank 181 Answers: Leak Ale Lake Able Beak Bale Bleak Bake
Game Of Words Enlightened Rank 182 Answers: Laid Vial Via Aid Valid Avid Dial Lid
Game Of Words Enlightened Rank 183 Answers: Corn Con Own Now Worn Orc Cow Crown Crow
Game Of Words Enlightened Rank 184 Answers: Rod Drown Word Now Own Row Down Worn Nod
Game Of Words Enlightened Rank 185 Answers: Rod Duo Run Dour Round Undo Urn Our
Game Of Words Enlightened Rank 186 Answers: Lip Pail Paid Laid Plaid Pad Dial Dip Lap
Game Of Words Enlightened Rank 187 Answers: Leg Ale Lane Lean Gale Angle Lag Angel Gel Age
Game Of Words Enlightened Rank 188 Answers: Idly Daily Laid Lay Day Lid Lady Dial Aid
Game Of Words Enlightened Rank 189 Answers: Disk Ski Disc Skid Sick Kid
Game Of Words Enlightened Rank 190 Answers: Rein Tier Tire Tie Rent Rite Inert Inter Tin
Game Of Words Enlightened Rank 191 Answers: Face Fed Fad Faced Cafe Ace Deaf Fade
Game Of Words Enlightened Rank 192 Answers: Was Sake Awe Sew Ask Askew Wake Weak Saw
Game Of Words Enlightened Rank 193 Answers: Cask Snack Can Ask Sac Sank Scan Sack
Game Of Words Enlightened Rank 194 Answers: Oven Lone Vole Love Novel One
Game Of Words Enlightened Rank 195 Answers: Vow Love Owe Vole Wove Owl Vowel Woe Low
Game Of Words Enlightened Rank 196 Answers: Din Gin Rind Grin Ding Grid Ring Dig Grind Rig
Game Of Words Enlightened Rank 197 Answers: Peel Eel Leper Peer Per Leer Reel Repel
Game Of Words Enlightened Rank 198 Answers: Rasp Scar Cap Spa Rap Scrap Spar Sac Carp Sap
Game Of Words Enlightened Rank 199 Answers: Paint Pit Pain Pat Tip Tin Tap Pint
Game Of Words Highborn Rank 200 Answers: Pat Tap Lit Tail Lip Plait Pail
Game Of Words Highborn Rank 201 Answers: Steer Reset Seer Rest See Tree Tee Terse Set
Game Of Words Highborn Rank 202 Answers: Fare Read Fed Fared Red Fade Fear Dear Far Deaf Fad Dare
Game Of Words Highborn Rank 203 Answers: Cab Crab Oar Boar Rob Cob Cobra Orc
Game Of Words Highborn Rank 204 Answers: Char Rat Cart Chat Art Hat Arch Chart Tar Cat
Game Of Words Rank 205 Answers: Cod Duo Loud Clod Could Cloud Old Cold
Game Of Words Highborn Rank 206 Answers: Air Ale Liar Rail Lie Real Are Ire Lair Earl
Game Of Words Rank 207 Answers: Heat Teach Each Hat Ace Hate Cat The Chat Cheat Ache Act
Game Of Words Highborn Rank 208 Answers: Show Whose How Shoe Sew Hose Hew Sow Who
Game Of Words Rank 209 Answers: Bar Darn Brand Bran Dab Ban And Bard Drab Barn Bad Band
Game Of Words Highborn Rank 210 Answers: Bit Diet Tie Tied Debt Bed Edit Bid Bet Debit Tide Bite
Game Of Words Highborn Rank 211 Answers: Nail Slain Sin Sail Nil Lain Snail
Game Of Words Highborn Rank 212 Answers: Bird Dire Bride Rid Ride Rib Bred Bid Die Bed
Game Of Words Rank 213 Answers: Raid Paid Arid Dip Aid Rapid Air Pair Drip Pad Rap
Game Of Words Highborn Rank 214 Answers: Pure Use Per Sue Sure Purse Ruse User Super Spur
Game Of Words Rank 215 Answers: Low Toe Lot Let Welt Towel Two
Game Of Words Highborn Rank 216 Answers: Tame Date Mead Team Mad Dame Mat Mate Dam Tamed Made Meat
Game Of Words Highborn Rank 217 Answers: Thing Thin Gin Nigh Tin Hint Night
Game Of Words Rank 218 Answers: Weak Wear Ark Ware Raw Wreak Awe Wake Rake Are War
Game Of Words Highborn Rank 219 Answers: Dew Din Wed Win Wine Dine New Widen Wide Wind
Game Of Words Noble Rank 220 Answers: Lap Pan Nail Pail Lip Pain Pin Nap Plan Plain Lain
Game Of Words Noble Rank 221 Answers: Lest Else Set Let Tee Eels Sleet See Steel
Game Of Words Noble Rank 222 Answers: Carer Race Care Racer Arc Err Ace Rare Car Rear Acre
Game Of Words Noble Rank 223 Answers: Hero Roe She Sore Horse Her Hose Rose Ore Shore Shoe
Game Of Words Noble Rank 224 Answers: Nut But Tub Turn Run Brunt Rub Burn Burnt
Game Of Words Noble Rank 225 Answers: Rage War Wear Gear Wager Wag Awe Grew Raw Wage Rag Ware
Game Of Words Noble Rank 226 Answers: Rain Ran Rind Din Drain Arid Aid Raid And Air
Game Of Words Rank 227 Answers: Tin Pen Pine Tie Pie Inept Tip Pint
Game Of Words Noble Rank 228 Answers: Dim Mid Diet Tide Emit Timed Edit Time Tied Mite Item Met
Game Of Words Noble Rank 229 Answers: Doe Cod Rode Decor Cord Core Code Rod
Game Of Words Noble Rank 230 Answers: Row Wrote Wore Tow Rot Rote Two Tower Tore Toe
Game Of Words Noble Rank 231 Answers: Mend Mind Denim End Mined Dine Den Dim Men Mine Mid
Game Of Words Rank 232 Answers: Die Ride Wired Wire Wider Weird Dew Drew Weir Rid Wide Dire
Game Of Words Noble Rank 233 Answers: Red Rid Ride Vie Ire Diver Die Dire Dive Drive
Game Of Words Noble Rank 234 Answers: Frame Mare Mar Are Arm Far Fare Ram Farm Fear Fame
Game Of Words Noble Rank 235 Answers: Facet Feat Face Cafe Ace Fat Fact Act Fate Cat
Game Of Words Noble Rank 236 Answers: Ban Bar Burn Run Rub Bran Barn Urban
Game Of Words Noble Rank 237 Answers: Acne Can Cat Act Cent Net Cane Enact Neat Ten
Game Of Words Noble Rank 238 Answers: Earn Car Ace Race Can Near Crane Arc Cane Care
Game Of Words Noble Rank 239 Answers: Fro Rote Fort Toe Fret Tore For Foe Fore Forte
Game Of Words Rank 240 Answers: Oil Doe Ode Dole Lid Idle Oiled Old Lied Idol
Game Of Words Leader Rank 241 Answers: Gel Leg Gale Aged Age Deal Lag Glade Dale Led Glad Lead
Game Of Words Leader Rank 242 Answers: Pad Tap Pat Apt Adept Date Taped Tape Pea Peat
Game Of Words Leader Rank 243 Answers: Board Rob Rod Ado Bard Broad Bad Drab Oar Road Boar
Game Of Words Leader Rank 244 Answers: Sir Rise Resin Rein Sire Sin Siren Rinse Ire Risen
Game Of Words Rank 245 Answers: Feral Ear Fare Flea Are Earl Far Elf Flare Leaf Real Fear
Game Of Words Leader Rank 246 Answers: Own Gown Now Worn Nor Grown Wrong Row Grow
Game Of Words Leader Rank 247 Answers: Cage Race Rag Age Rage Care Grace Crag Gear Ace Car
Game Of Words Leader Rank 248 Answers: Snake Sake Sneak Sea Sank Ask Sane
Game Of Words Leader Rank 249 Answers: Tank Take Ant Ten Net Ate Teak Tan Taken Neat
Game Of Words Leader Rank 250 Answers: Tepid Pie Edit Diet Tide Tied Dip Tie Tip Pet
Game Of Words Leader Rank 251 Answers: Rise Spire Ripe Sip Sir Per Pier Pie Rip Prise Sire
Game Of Words Leader Rank 252 Answers: Nor Rob Oar Orb Barn Baron Boar Born Bran Ban
Game Of Words Leader Rank 253 Answers: Bead Bale Dale Able Bad Deal Bald Lead Bled Blade Dab
Game Of Words Rank 254 Answers: Rot Torso Too Root Sort Soot Roost
Game Of Words Leader Rank 255 Answers: Rub Bout Turbo Rout Our Out But Tour Tub
Game Of Words Rank 256 Answers: God Gold Old Dole Log Dog Lodge Ego
Game Of Words Rank 257 Answers: Role Lord Dole Old Rode Older Led Rod Lore
Game Of Words Rank 258 Answers: What The Wheat Hate Wet Thaw Hew Hat Awe Heat
Game Of Words Leader Rank 259 Answers: Harm Mar Hare Ham Ram Hear Hem Harem Mare Arm
Game Of Words Rank 260 Answers: Ham Shame Seam Has Sham She Mesh Mash Same Ash Hem
Game Of Words Monarch Rank 261 Answers: Rune Tern Urn Run Rut Tune Turn Rent Nut Net Tuner True
Game Of Words Monarch Rank 262 Answers: Spar Sap Spray Pray Spa Say Pry Rasp Spy
Game Of Words Monarch Rank 263 Answers: Cramp Cram Ram Mar Camp Arm Ramp Map Carp Cap
Game Of Words Monarch Rank 264 Answers: Tax Teal Latex Let Axle Axe Late Tale
Game Of Words Monarch Rank 265 Answers: Ray Dare Ear Year Ready Day Read Yard Dear Dry Are
Game Of Words Monarch Rank 266 Answers: Are Earn Rag Rang Ran Range Age Near Rage Gear Anger
Game Of Words Monarch Rank 267 Answers: Cape Peal Cap Lace Place Pale Lap Pace Plea Leap Pea Clap
Game Of Words Rank 268 Answers: Arm Ram Beam Amber Mare Bear Bare Bar
Game Of Words Rank 269 Answers: Has Leash Sale Lash Ash Sea Seal Heal Shale She Ale
Game Of Words Monarch Rank 270 Answers: Fin Fend Fiend Fine Fined Fed Fen End Den Find Dine
Game Of Words Rank 271 Answers: Low Bow Bowl Lob Bowel Lobe Elbow Below Blew Blow Web
Game Of Words Monarch Rank 272 Answers: Field Lied Filed Idle Life Fed Fled File Lid Lie Led
Game Of Words Monarch Rank 273 Answers: Heat Hate Halt Hat Let Teal Tale Lathe Late Heal The
Game Of Words Monarch Rank 274 Answers: Sat Yeast Stay Yes East Say Seat Easy Sea Yet
Game Of Words Rank 275 Answers: Lap Lead Pale Deal Leap Plead Plea Pedal Pad Peal Pea
Game Of Words Rank 276 Answers: Tale Late Date Delta Lead Deal Led Teal Dealt Let
Game Of Words Rank 277 Answers: Peat Tap Type Tape Peaty Ape Pay Pea Yet
Game Of Words Rank 278 Answers: Lead Dame Meal Male Dam Mead Mad Deal Medal Lame Made
Game Of Words Monarch Rank 279 Answers: Eve Eel Ever Reel Leer Lever Revel
Game Of Words Exalted Rank 280 Answers: Robe Bed Bored Bred Rob Rod Red Rode Bore
Game Of Words Exalted Rank 281 Answers: Way Awry War Wry Ware Raw Wear Wary Weary Year Awe
Game Of Words Exalted Rank 282 Answers: Rude Red Curd Rue Due Cure Cured Cue Crude
Game Of Words Exalted Rank 283 Answers: Cab Bar Bare Crab Bear Ace Brace Care Race Car
Game Of Words Exalted Rank 284 Answers: Step Lest Pet Set Spelt Pest Let Slept
Game Of Words Exalted Rank 285 Answers: Read Dare Her Hare Heard Hear Hard Herd Head Had Dear Red
Game Of Words Exalted Rank 286 Answers: Bathe The Beta Hate Bat Bet Tab Hat Heat Beat Bath
Game Of Words Exalted Rank 287 Answers: The Ether Tee There Tree Here Three Her
Game Of Words Exalted Rank 288 Answers: Rose Wore Sore Sow Owe Swore Row Sew Worse Woe
Game Of Words Exalted Rank 289 Answers: Set Sort Rote Rest Sore Toe Store Tore Rose Rot
Game Of Words Exalted Rank 290 Answers: Use Rouse Rose Sure Sore User Rue Sue Our Sour Euro Ruse
Game Of Words Exalted Rank 291 Answers: Layer Relay Ale Early Are Lay Ray Rely Year Real Earl Ear
Game Of Words Exalted Rank 292 Answers: Lone One Melon Elm Men Mole Lemon Omen
Game Of Words Exalted Rank 293 Answers: Gem Meal Male Game Gel Lame Gale Gleam Lag Leg
Game Of Words Exalted Rank 294 Answers: Spa Wasp Paw Swamp Was Map Swam Spam Swap Saw
Game Of Words Exalted Rank 295 Answers: Sat Teak Ask Sake Steak Task Set Skate Seat Take Stake East
Game Of Words Exalted Rank 296 Answers: Rake Break Kerb Ark Bare Baker Bear Bake Beak Bark Bar Brake
Game Of Words Exalted Rank 297 Answers: Eel Lie Eye Idle Eyelid Yield Idly Dye Lied Eyed Lid
Game Of Words Exalted Rank 298 Answers: Mine Mike Akin Make Main Kin Mean Name Mink Minke Mane Ink
Game Of Words Illustrious Rank 300 Answers: Art Mat Tram Arm Aria Trim Ram Tiara Mar
Game Of Words Illustrious Rank 301 Answers: Mole Met Tome Melt Toe Motel Let Totem Lot
Game Of Words Illustrious Rank 302 Answers: Open Hen Honey Phoney Hype Pen Phone One Hop Pony Hope
Game Of Words Illustrious Rank 303 Answers: Doe Ode Ceded Odd Decode Coded Deed Cede Code Cod
Game Of Words Illustrious Rank 304 Answers: Ode Boo Ooze Zoo Bed Booed Oboe Booze Doe Doze
Game Of Words Illustrious Rank 305 Answers: Naked Yanked Key And Dank Dye Day Dean Deny
Game Of Words Illustrious Rank 306 Answers: Lied Bile Led Edible Idle Bee Lid Bid Bleed Belied Bled Bed
Game Of Words Illustrious Rank 307 Answers: Fun Fat Flat Fan Flan Flu Fault Tuna Flaunt
Game Of Words Illustrious Rank 308 Answers: Ten Note One Not Tone Exit Oxen Next Toxin Net Into Ion
Game Of Words Illustrious Rank 309 Answers: Air Ear Arise Are Size Sir Sire Raise Rise
Game Of Words Illustrious Rank 311 Answers: Bat Gait Gambit Big Bag Ambit Tag Bait Bit
Game Of Words Illustrious Rank 312 Answers: Omega Ago Mag Home Hog Game Homage Ham
Game Of Words Illustrious Rank 313 Answers: Dry Had Hardly Hardy Yard Ray Lard Lay Hydra Hard Lady Day
Game Of Words Illustrious Rank 314 Answers: Vote Voted Duet Out Due Veto Devout Dove Vet Duo Dot
Game Of Words Illustrious Rank 315 Answers: Rid Dries Iris Ride Red Side Sir Dire Rise Sire Die
Game Of Words Illustrious Rank 316 Answers: Kin Inky Kid Dig Ink Din Ding Dingy Dying King Kind
Game Of Words Illustrious Rank 317 Answers: Gilt Tag Halt Light Hilt Hail Gait Tail Alight Lag Hat
Game Of Words Illustrious Rank 318 Answers: Our Rosy Soul Soy Slur Sourly Yours Lousy Sour Sly You Surly
Game Of Words Illustrious Rank 319 Answers: Bet Boot Dot Booed Oboe Debt Boo Bed Too
Game Of Words Chosen Rank 320 Answers: Hub Bush Shrub Bus Rush Brush Mush Rub Sub Hum
Game Of Words Chosen Rank 321 Answers: Sip Slip Sky Silk Spiky Lips Spy Ilk Silky Skip
Game Of Words Chosen Rank 322 Answers: Glum Gulp Gum Lumpy Plum Mug Plug Gym Ply Lump Ugly Guy
Game Of Words Chosen Rank 323 Answers: Tweed Weed Yet Weedy Eye Ewe Eyed Dye Wet
Game Of Words Chosen Rank 324 Answers: Rail Char Rich Lair Liar Arc Car Chair Arch Hair Air Hail
Game Of Words Rank 325 Answers: Salt Alt Mat Atlas Mast Malt Sat Slam Alas Alms Last
Game Of Words Chosen Rank 326 Answers: Lit Lot Let Elite Tee Tile Lite Toil Oil
Game Of Words Rank 327 Answers: Trick Trek Tire Tick Kit Rite Tic Cite Rice Tier Kite
Game Of Words Rank 328 Answers: Cue Clue Sole Louse Lose Sue Soul Locus Close Use
Game Of Words Chosen Rank 329 Answers: Pot Plot Ploy Holy Hop Hotly Toy Top Holt
Game Of Words Chosen Rank 330 Answers: Sea Vase Ease Eaves Eased Evade Saved Seed Eve Sad Save See
Game Of Words Rank 331 Answers: Typing Pity Tying N*p Pin Tip Pig Ping Pit Tiny Pint
Game Of Words Chosen Rank 332 Answers: Genre Green Gender Deer Edge Greed End Gene Need Red Den Reed
Game Of Words Chosen Rank 333 Answers: Sap Snap Nap Snappy Spa Span Pan Pay
Game Of Words Chosen Rank 334 Answers: Bye Buyer Rue Bury Berry Rub Err Ruby Burr Buy Rye
Game Of Words Chosen Rank 335 Answers: Choir Rip Orc Rich Chip Porch Hip Chop Hop Chirp Cop Crop
Game Of Words Chosen Rank 336 Answers: Pen Peg Pun Purge Rune Rug Prune Rung Urge Gun Pure
Game Of Words Chosen Rank 337 Answers: Soot Cost Top Spot Coop Stoop Post Too Scoop Stop
Game Of Words Chosen Rank 338 Answers: Pun Leg Lung Pen Plug Lunge Plunge Gulp Gun Glue Peg
Game Of Words Chosen Rank 339 Answers: Fin Fly Flit Lift Lint Fit Lit Flint Nifty Tiny
Game Of Words Rank 340 Answers: Ewe Wed Weed Wedge Dew Deed Edged Wedged Edge
Game Of Words Awakened Rank 341 Answers: Tier Tore Riot Err Rot Rite Retro Toe Trio Rote Tire Tie
Game Of Words Awakened Rank 342 Answers: Moor Broom Rob Boo Room Oboe Mob Robe Boom Bore More
Game Of Words Rank 343 Answers: Say Easy Saucy Sac Cue Case Sauce Sue Cause Yes
Game Of Words Rank 344 Answers: Thud Cute Duct The Hue Chute Hut Duet Due Cue
Game Of Words Rank 345 Answers: Blue Bell Bully Bull Buy Bye Yell Belly
Game Of Words Awakened Rank 346 Answers: Gin Sing Din Sin Dig Sign Dying Dingy Ding
Game Of Words Awakened Rank 347 Answers: Ram Oral Mural Molar Maul Our Arm Loam Roam Mar Rum Moral
Game Of Words Awakened Rank 348 Answers: Lying Gin Nil Tying Lint Gilt Tiny Glint Tin Lit
Game Of Words Awakened Rank 349 Answers: Little Let Ill Tell Till Lilt Lite Tilt Title Tile Lit
Game Of Words Awakened Rank 350 Answers: Riven Men Mire Vie Mine Vein Vermin Miner Rein Rim Vine
Game Of Words Awakened Rank 351 Answers: Dwelt Weed Wet Welt Dew Lewd Tweed Wed Ewe
Game Of Words Awakened Rank 352 Answers: Lash Flashy Say Flash Has Fly Ash Slay Half
Game Of Words Awakened Rank 353 Answers: Gain Pacing Pang Panic Pig Can Gap Pan Cap Pain Ping
Game Of Words Awakened Rank 354 Answers: Eel Legend End Need Edge Leg Gene Den Ledge Gel Lend Glee
Game Of Words Rank 355 Answers: Boat Baton Toy Bay Not Bat Boy Botany Bony
Game Of Words Awakened Rank 356 Answers: Slum Push Hump Plus Lump Plum Mush Slump Lush Pus Sump Plush
Game Of Words Awakened Rank 357 Answers: Crew Ewe Were Creed Red Cede Reed Drew Wed Deer Weed Dew
Game Of Words Awakened Rank 358 Answers: Ably War Way Bra Law Wary Brawl Bray Awry Bar
Game Of Words Awakened Rank 359 Answers: Rot Let Tell Toe Role Tore Troll Roll Lot Rote Toll Lore
Game Of Words Divine Rank 360 Answers: Nail Taint Tan Tilt Lint Titan Tint Tail Lain Lit Ant
Game Of Words Divine Rank 361 Answers: Pet Pert Peer Erupt Pure Repute True Put Tree Peter Rut
Game Of Words Divine Rank 362 Answers: Axe Pale Leap Lapel Pall Ape Pea Apex Axle Plea
Game Of Words Divine Rank 363 Answers: Leave Ale Led Dale Eel Deal Lead Veal Eve Delve Evade Vale
Game Of Words Divine Rank 364 Answers: Even Have Nee Heaven Eve Van Hen Haven Vane Heave
Game Of Words Rank 365 Answers: Bicker Bike Rib Ire Crib Brick Rice Kerb Ice Biker
Game Of Words Divine Rank 366 Answers: Ramp Ram Alarm Rap Map Lamp Palm Arm
Game Of Words Divine Rank 367 Answers: Daze Idea Sea Dais Said Size Aide Sad Aside Side Sized Aid
Game Of Words Divine Rank 368 Answers: Snob Boots Soot Sob Onto Boon Not Too Boost Soon Boo
Game Of Words Divine Rank 369 Answers: Stud Dusty Duty Lust Dust Lusty Duly Sly Study
Game Of Words Divine Rank 370 Answers: Ware Raw Wafer Fear War Fare Wear Far Few
Game Of Words Divine Rank 371 Answers: Cue Sue Sure Ruse Curse Sucker User Rue Cure Use
Game Of Words Divine Rank 372 Answers: Beet Let Bee Bed Belt Bled Belted Led Debt Bleed Bet
Game Of Words Divine Rank 373 Answers: Soy Lash Halo Slay Holy Shoal Lay Has Say Also Ash
Game Of Words Rank 374 Answers: Plus Pose Louse Pole Soup Lose Opus Slope Pulse Sole Soul
Game Of Words Divine Rank 375 Answers: Video Dived Diode Die Did Odd Dive Died Void Devoid Dove Vie
Game Of Words Divine Rank 376 Answers: Cove Lace Vocal Alcove Love Cola Coal Clove Oval Vale Veal Cave
Game Of Words Rank 377 Answers: Abode Dab Odd Bade Bad Dead Bead Add Adobe Dad
Game Of Words Rank 378 Answers: Spin Pig Ping Sip Spiny Pin Snip Sign Spy Spying Sing
Game Of Words Divine Rank 379 Answers: Purely Ply Lure Rely Yelp Reply Pyre Pry Prey Per Rule Pure
Game Of Words Rank 380 Answers: Bray Grab Baggy Gag Bag Garb Bar Brag G*y
Game Of Words Deity Rank 381 Answers: Dial Audit Adult Laid Tidal Lid Aid Dual Tail
Game Of Words Rank 382 Answers: Sew Veers Ewes Eve Sever Verse Serve Were Seer Ever Sewer See
Game Of Words Deity Rank 383 Answers: Too Shoot Tooth Soot Hoot Hot Shot Host
Game Of Words Deity Rank 384 Answers: Genie Seeing Nee See Gin Sign Sin Siege Gene Seen Sing
Game Of Words Deity Rank 385 Answers: Pine Pen Pin Peg Gene Pig Ping Pie Genie
Game Of Words Deity Rank 386 Answers: Cut Nil Tic Until Tunic Unit Lint Unlit Nut Tin Cult
Game Of Words Deity Rank 387 Answers: Plum Perm Lure Rule Rum Plume Mule Pure Rump Lump Emu
Game Of Words Deity Rank 388 Answers: Plus Slap Lap Sap Pus Haul Lush Lash Push Spa Plush
Game Of Words Deity Rank 389 Answers: Hew Threw Hurt Hut True Wet Whet Hue Rut
Game Of Words Rank 390 Answers: Smirk Ski Skier Risk Skim Miser Sir Sire Mire Rise
Game Of Words Deity Rank 391 Answers: Tab Boat Alto Bat Ball Bolt Ballot Allot Tall Blot Toll Lot
Game Of Words Deity Rank 392 Answers: Flick Ice Lie Ilk Like Clef Life File Fickle Lick Lice
Game Of Words Rank 393 Answers: Never Nerve Need Reed Eve Deer Red End Ever Even
Game Of Words Deity Rank 394 Answers: Fuel Flue Due Fed Feud Duel Fled Fluke Led Duke Flu
Game Of Words Deity Rank 395 Answers: Than Tan Hay Yacht Ant Hat Chant Cat Chat
Game Of Words Rank 396 Answers: Sick Brisk Brick Crib Ski Risk Sir Rib
Game Of Words Deity Rank 397 Answers: Add Dad Cane Dean Danced Dead Dance Ace And Can Acne
Game Of Words Rank 398 Answers: Send Den Cede End Need Seed Scene Dense Seen See
Game Of Words Deity Rank 399 Answers: Pert Prey Yet Pry Petty Try Pet Tyre Pyre Pretty Type
Game Of Words Rank 400 Answers: Sickly Sky Sly Slick Sick Silky Silk Icy Ski Ilk Lick
Game Of Words Mercury Rank 401 Answers: Rye Per Epoxy Pore Proxy Pyre Rope Prey Expo Pry
Game Of Words Mercury Rank 402 Answers: Fond Duo Found Unfold Nod Undo Foul Fold Fun Loud Fund
Game Of Words Mercury Rank 403 Answers: Sell Else Elves Level Eels Eve See
Game Of Words Rank 404 Answers: Poll Rap Oral Lap Polar All Pallor Roll Opal Pall
Game Of Words Mercury Rank 405 Answers: Flour Foul Fry Four Your For Fur Fury You
Game Of Words Rank 406 Answers: Nine Ran Near Are Inner Rain Earn Inane Rein Ear Inn
Game Of Words Rank 407 Answers: Rich Her Nicer Rice Nice Inch Enrich Niche Heir Rein Hire Chin
Game Of Words Mercury Rank 408 Answers: Menu Fern Femur Fur Fun Run Fume Rum Rune
Game Of Words Mercury Rank 409 Answers: Solar Royal Soar Rosy Say Soy Ray Oral Slay Also
Game Of Words Mercury Rank 410 Answers: Gentry Net Yet Try Get Entry Tern Tyre Rent
Game Of Words Mercury Rank 411 Answers: Old Blood Blond Bold Boon Bond Boo Nod Lob
Game Of Words Mercury Rank 412 Answers: Rich Urn Urchin Chin Churn Inch Incur Run Ruin
Game Of Words Mercury Rank 413 Answers: Rod Erode Ride Dire Red Rid Rode Deer Reed
Game Of Words Mercury Rank 414 Answers: Cage Can Hen Hang Each Acne Ache Age Change Cane
Game Of Words Mercury Rank 415 Answers: Nifty Oft Font Fit Notify Fin Not Tiny Toy Into
Game Of Words Mercury Rank 416 Answers: All Allude Ladle Lead Deal Dual Laud Duel Dull
Game Of Words Mercury Rank 417 Answers: Sad Deal Sale Sea Seal All Ladle Sell Lead Dell Sled
Game Of Words Rank 418 Answers: Rare Vie River Rear Arrive Air Rave Ear Via Are
Game Of Words Mercury Rank 419 Answers: Horn One Gore Her Ego Hero Heron Gone Hen Hog
Game Of Words Ceres Rank 420 Answers: Salad Lid Laid Sail Dais Aid Said Alias Alas Dial Sad Slid
Game Of Words Ceres Rank 421 Answers: Cola Coal Ace Locale All Lace Call Cell Cello Local
Game Of Words Ceres Rank 422 Answers: Hog Not Throng Got North Rot Hot Torn Thorn Tong Horn
Game Of Words Ceres Rank 423 Answers: Norm Rink Rim Iron Ion Ink Monk Koi Noir Kin Minor Mink
Game Of Words Ceres Rank 424 Answers: Plum Ply Lumpy Lump Lymph Hum Hump
Game Of Words Ceres Rank 425 Answers: Ham Atom Out Moat Hat Mouth Mat Math Hut Oath Moth
Game Of Words Ceres Rank 426 Answers: Them Yet Melt Myth The They Helm Thyme Hem Met
Game Of Words Ceres Rank 427 Answers: One Cone Clone Once Lone Colon Cool Con
Game Of Words Ceres Rank 428 Answers: Very Eve Nerve Even Never Envy Nervy Rye Ever Eye Every
Game Of Words Ceres Rank 429 Answers: Uplift Put Lift Lip Flip Tip Tulip Pit Flit
Game Of Words Ceres Rank 430 Answers: Foal Low Flaw Law Fallow Fowl Fall Flow Allow Wall Loaf Wolf
Game Of Words Rank 431 Answers: Far Fall Roll Fro All For Oral Floral Flora Loaf Foal
Game Of Words Ceres Rank 432 Answers: Heed She Hew Weed Sewed Sew Shed Seed Dew Wed Ewes
Game Of Words Ceres Rank 433 Answers: Prop Orb Pore Probe Pope Rob Per Robe Rope Pop Bore
Game Of Words Ceres Rank 434 Answers: Rage Egg Age Eager Agree Are Rag Gear Gag Reggae
Game Of Words Ceres Rank 435 Answers: Rush Such Slur Lurch Hurl Lush Crush Curl
Game Of Words Ceres Rank 436 Answers: Dye Reedy Remedy Reed Mere Deem Dry Deer Rye Eyed Eye
Game Of Words Ceres Rank 437 Answers: Fir Tire Ire Refit Rift Rite Tie Fret Tier Fire Fit Rife
Game Of Words Ceres Rank 438 Answers: Ache Bale Leach Beach Bleach Heal Each Cable Lace Able
Game Of Words Ceres Rank 439 Answers: Van Alto Loan Nova Volt Ant Tonal Oval Lot Vat Tan
Game Of Words Jupiter Rank 440 Answers: Old Dole Lobe Bed Lob Bold Bled Hole Behold Held Hold
Game Of Words Jupiter Rank 441 Answers: Lain Nail Navy Vainly Vial Anvil Ivy Vain Van Via Inlay Vinyl
Game Of Words Jupiter Rank 442 Answers: Incur Grin Rig Ring Run Curing Ruin Rug Gun Rung Urn
Game Of Words Jupiter Rank 443 Answers: Fad Fig Find Dig Fin Fan Gain Fading Ding
Game Of Words Jupiter Rank 444 Answers: Tone Bet Bone Knob Bent Net Token Note Ten Toe Knot Not
Game Of Words Rank 445 Answers: Lag Alley Leg All Age Gall Gale Yell Galley Ally Legal
Game Of Words Jupiter Rank 446 Answers: Palm Pub Lamp Balm Lump Plum Maul Bump Map Plumb Album Lamb
Game Of Words Rank 447 Answers: Dirt Rid Tidy Fir Dirty Fry Drift Try Rift Dry Fit
Game Of Words Jupiter Rank 448 Answers: Con Moan Mica Can Man Amino Main Manic Coma Coin Aim Icon
Game Of Words Jupiter Rank 449 Answers: Lash Bus Haul Bash Slab Blush Sub Bush Lush Hub
Game Of Words Jupiter Rank 450 Answers: Awed Dead Waded Awe Add Added Dad Wade Wad Dew Wed
Game Of Words Jupiter Rank 451 Answers: Dope Doe Mopped Pop Mop Pod Dome Mode Moped Poem Pope Pomp
Game Of Words Rank 452 Answers: Peg Glue Glued Plug Duel Dug Due Gulp Gulped Leg
Game Of Words Jupiter Rank 453 Answers: Mixes Miss Mess Sixes Six Mix Sexism
Game Of Words Jupiter Rank 454 Answers: Reed Deer Died Deed Rid Dire Ride Deride Red Die Dried Did
Game Of Words Rank 455 Answers: Lake Eel Leak Ankle Keel Leek Lean Kneel Lane Knee Keen
Game Of Words Rank 456 Answers: Lick Lain Kiln Akin Kin Clan Link Nick Nail Lack Clink Ink
Game Of Words Jupiter Rank 457 Answers: Gin Vine Given Give Vixen Vie Vein
Game Of Words Rank 458 Answers: Nor Noir Rod Rind Indoor Donor Nod Iron Door Rid
Game Of Words Jupiter Rank 459 Answers: Hope Hop Pen Open Omen Men Poem Phone Hemp Mop Home Hem
Game Of Words Juno Rank 460 Answers: Net Tie Ten Unit Quite Nut Tin Tune Unite Untie Quit Quiet
Game Of Words Juno Rank 461 Answers: Owe Foe Woo Fed Wood Woof Food Wooed Few Owed
Game Of Words Rank 462 Answers: Pole Only Ply Openly Pony Pylon Ploy Open Lone Yelp Pen
Game Of Words Rank 463 Answers: Close Vole Cove Clove Love Solve Lose Sole
Game Of Words Rank 464 Answers: Thwart Rat Raw Tart Art Wrath That What War Thaw Hat
Game Of Words Juno Rank 465 Answers: Wad Awed Waved Ewe Weave Wave Evade Awe Weed Dew Eve Wade
Game Of Words Juno Rank 466 Answers: These Set Bet She Bee Beet Sheet Beset The Behest Best
Game Of Words Juno Rank 467 Answers: Pat Pact Tip Cat Tap Act Attic Tacit Tact
Game Of Words Juno Rank 468 Answers: Old Lard Had Road Halo Lord Hold Load Ado Oral Hoard Hard
Game Of Words Juno Rank 469 Answers: Ease See Sea Cease Cede Ceased Sac Eased Ace Seed Case Sad
Game Of Words Rank 470 Answers: Fen Flung Gun Lunge Fun Fuel Glue Engulf Gulf Lung Flu
Game Of Words Juno Rank 471 Answers: Torpor Port Poor Top Rot Too Rotor Troop Pot Root
Game Of Words Rank 472 Answers: Tier Tree Erect Recite Rite Tic Rice Tee Cite Tire Tie Ice
Game Of Words Juno Rank 473 Answers: From Minor Form Fir Inform For Norm Fin Firm Fro Iron
Game Of Words Rank 474 Answers: Deed Defend End Fen Need Fee Fed Ended Den Fend Feed
Game Of Words Juno Rank 475 Answers: Gem Grime Regime Rig Mere Merge Mire Germ Grim Rim
Game Of Words Juno Rank 476 Answers: Four Flu Flour Fur Slur For Fro Soul Our Foul Surf Sour
Game Of Words Juno Rank 477 Answers: Load Ado And Mad Moan Loan Mold Almond Modal Dam Land
Game Of Words Juno Rank 478 Answers: Dish Third Hits Stir Rid Its Dirt This His Hid Shirt Sit
Game Of Words Rank 479 Answers: Honey Deny One Done Hen Honed End Dye Nod Node
Game Of Words Neptune Rank 480 Answers: Veal Gale Vale Lava Gave Algae Gel Leg Gala Age Lag
Game Of Words Neptune Rank 481 Answers: Pity Chip City Pitch Hip Pithy Pit Itch Itchy Tip Pith Chit
Game Of Words Rank 482 Answers: Bite Hilt Lit Bile Lite Lithe Bit The Bet Tile Belt Let
Game Of Words Neptune Rank 483 Answers: Tarot Trot Throat Oath Tart Art Rot Hat Hot That
Game Of Words Neptune Rank 484 Answers: Beg Glue Blue Bun Bug Gun Nub Bulge Lunge Lung Begun
Game Of Words Rank 485 Answers: Hid Sided His Hide Shied Dished Shed Dish Side She Died Did
Game Of Words Neptune Rank 486 Answers: North Not Nor Thorn Torn Root Onto Hot Honor Horn Hoot Too
Game Of Words Rank 487 Answers: Stoke Coke Sect Sock Cost Cote Stock Set Socket Toe
Game Of Words Neptune Rank 488 Answers: Liable All Ill Bill Bile Able Bale Ball Bail Bell Libel Label
Game Of Words Neptune Rank 489 Answers: Mane Men Menace Mace Can Acne Name Cane Mean Man Came
Game Of Words Neptune Rank 490 Answers: Chimed Mid Hid Dim Medic Mice Hem Dice Him Iced Hide
Game Of Words Rank 491 Answers: Lay May Yell Lame Lamely Meal Male All Ally Elm Alley Mall
Game Of Words Rank 492 Answers: End Hind Din Hen Dine Hide Hidden Died Dined Hid Did
Game Of Words Neptune Rank 493 Answers: Died Dined Deed Den End Indeed Need Din Did Denied Ended Dine
Game Of Words Neptune Rank 494 Answers: Ate But Beau Tea Beat Tube Abate Beta Tuba Tub Eat
Game Of Words Neptune Rank 495 Answers: Built Bail Bit Tab Tub But Bait Tail Bat Tuba
Game Of Words Neptune Rank 496 Answers: Onto Son Toy Sooty Soot Soon Nosy Soy Stony Too
Game Of Words Neptune Rank 497 Answers: Boy Dry Wry Bow Rowdy Word Dowry Row Body Brow
Game Of Words Neptune Rank 498 Answers: Rue Due Urge Drug Udder Dug Rug Urged Rude Red
Game Of Words Neptune Rank 499 Answers: Nee Genre Men Gem Gene Merge Green Germ Mere
Game Of Words Minerva Rank 500 Answers: Main Matt Taint Mint Ant Aim Mat Titan Tint Man Tan
Game Of Words Minerva Rank 501 Answers: But Tube True Tub Bet Rut Brute Utter Butter
Game Of Words Minerva Rank 502 Answers: Dump Mule Plume Lumped Lump Emu Duel Plum Led Mud Due
Game Of Words Minerva Rank 503 Answers: Jargon Jog Jar Organ Rang Groan Rag Argon
Game Of Words Minerva Rank 504 Answers: Mane Mean Name Hem Hue Human Humane Menu Hum Ham Emu
Game Of Words Rank 505 Answers: Awake Waken Anew Awe Wake Wane Awaken Wean Knew New Weak
Game Of Words Rank 506 Answers: Fire For Froze Foe Rife Fore Fro Zero Fir
Game Of Words Minerva Rank 507 Answers: Die See Seized Side Seed Size Sized Seize
Game Of Words Rank 508 Answers: Coped Poke Poked Dock Cop Dope Pod Code Cope Coke Deck Peck
Game Of Words Minerva Rank 509 Answers: Ever Here Hare Have Ear Are Eve Hear Her Rave Era Heave
Game Of Words Minerva Rank 510 Answers: Trek Truck Curt Rut Tuck Truce Cute True Cure
Game Of Words Minerva Rank 511 Answers: Heave Have Had Head Heed Heaved Evade Eve
Game Of Words Minerva Rank 512 Answers: Thaw Cat Tack Hat Chat Whack Act Hack Watch What Hawk
Game Of Words Rank 513 Answers: One Long Lunge Lung Log Ego Lone Gun Glue Gone Lounge Leg
Game Of Words Minerva Rank 514 Answers: Late Vet Ate Valet Vale Teal Eat Veal Tea Vat Tale
Game Of Words Minerva Rank 515 Answers: Halo Who Low Owl Law How Allow Hall Howl Wall
Game Of Words Minerva Rank 516 Answers: View Sir Sew Vie Wise Ire Sire Weir Wives Wiser Rise Wire
Game Of Words Minerva Rank 517 Answers: Suite Set Its Site Sue Sit Quite Suit Quit Quest Quiet
Game Of Words Minerva Rank 518 Answers: Nil Lie Nice Lice Cue Line Nuclei Uncle Lieu Ice Clue
Game Of Words Minerva Rank 519 Answers: Night Hint Kin Knit Think Kit Thin Ink Knight King Thing
Game Of Words Mars Rank 520 Answers: Sort Short Broth Shot Sob Throb Rot Host Hot Rob Both
Game Of Words Mars Rank 521 Answers: Duel Sued Eels Else Sled Elude Seed Used Sue Suede Due Use
Game Of Words Mars Rank 522 Answers: Stew Chew Wet She Chest Sect West Set Hew Whet Sew
Game Of Words Rank 523 Answers: Need Den Ice Nice Dice Iced Niece Dine End Cede Din Die
Game Of Words Mars Rank 524 Answers: Lose Slob Lobe Soul Bus Blue Sole Louse Bolus Sob Blouse
Game Of Words Rank 525 Answers: Sink Since Skin Nice Neck Ski Kin Ink Sin Sick Nick Ice
Game Of Words Mars Rank 526 Answers: Wet Eight Hew Weigh With White Wig Twig Weight Get Whet
Game Of Words Mars Rank 527 Answers: Amuse Seam Save Mesa Suave Sea Mauve Same Sum Vase Emu Muse
Game Of Words Mars Rank 528 Answers: Cork Rock Toe Rote Trek Coke Rocket Core Cote Tore
Game Of Words Mars Rank 529 Answers: Bee End Blend Led Bled Been Need Lend Bleed Den Bend Bed
Game Of Words Mars Rank 530 Answers: Verify Fiery Fir Ivy Fry Rye Very Fire Rife Vie Five
Game Of Words Mars Rank 531 Answers: Twin Win Wet Wine New Wit Twine Net Newt Went
Game Of Words Mars Rank 532 Answers: Salon Soar Solar Snarl Oral Also Arson Oar Son Loan Sonar
Game Of Words Mars Rank 533 Answers: Ice Hen Nigh Nice Inch Niche Hinge Chin Gin
Game Of Words Mars Rank 534 Answers: Valuer Are Real Ravel Earl Rule Lure Vale Rave Veal Value
Game Of Words Rank 535 Answers: Sock Shoe Chose She Hock Coke Choke Echo Shock Hose
Game Of Words Mars Rank 536 Answers: Gut Get Tune Gun Nut Untie Tinge Tug Unite Unit
Game Of Words Mars Rank 537 Answers: Lay Loyal All Slay Sally Also Sly Say Soy Alloy Ally
Game Of Words Rank 538 Answers: Moss Yes Mossy Messy Soy Mess Some
Game Of Words Mars Rank 539 Answers: Goo Got Oft Forgot Forgo Root For Fort Foot Frog Roof Fog
Game Of Words Rank 540 Answers: Boom Mode Boomed Doom Doe Booed Mob Bed Mood Dome Oboe Boo
Game Of Words Venus Rank 541 Answers: Mica Can Gin Man Aim Manic Mag Gain Main Magic
Game Of Words Venus Rank 542 Answers: Bulge Leg Flu Bug Fuel Blue Glue Gulf Flue Beg Elf
Game Of Words Venus Rank 543 Answers: This Its Stiff Fish Sit His Sift Hits Shift Fifth Fist
Game Of Words Venus Rank 544 Answers: Bind Dined Din Did Bid Died Dine Bin Bed Bend
Game Of Words Venus Rank 545 Answers: Deny Any Eye And Need Eyed Dean Day Needy Dye
Game Of Words Venus Rank 546 Answers: Coma Coke Came Cameo Oak Mace Cake Make Come Mock Amok
Game Of Words Rank 547 Answers: Plea Ape Lap Apple Papal Pale Appeal Peal Leap Pea
Game Of Words Venus Rank 548 Answers: Set West Wrest Rest Tyre Stew Wry Try Yes Yet
Game Of Words Venus Rank 549 Answers: Face Cafe Ached Ache Head Deaf Had Faced Ace Chef Fade Each
Game Of Words Venus Rank 550 Answers: Upon Pond Pound Dip Pod Undo Duo Pin Pun
Game Of Words Venus Rank 551 Answers: Raid Rid Art Rat Triad Aid Dirt Arid Dart
Game Of Words Venus Rank 552 Answers: Mice Crime Nicer Nice Rice Men Mire Mince Mine Miner
Game Of Words Venus Rank 553 Answers: Yarn Rare Near Ray Any Ear Are Yearn Rear Year Earn Rye
Game Of Words Venus Rank 554 Answers: Surly Sly Try Lust Rusty Rut Rust Truly Slur Sultry Lusty
Game Of Words Venus Rank 555 Answers: Cave Vet Tea Acted Date Ate Cadet Eat Vat
Game Of Words Venus Rank 556 Answers: Frost Sort For Short Fort Host Froth Oft Forth Shot Soft Fro
Game Of Words Venus Rank 557 Answers: Pushy Plus Lush Push Shy Sly Spy Ply Pus Plush
Game Of Words Venus Rank 558 Answers: Mule Helm Hue Him Hum Lime Lieu Helium Hem Mile
Game Of Words Venus Rank 559 Answers: Fable Leaf Label Ball Fall Befall Flea Able Fell Bale Bell
Game Of Words Apollo Rank 560 Answers: Sag Gas Magic Scam Aim Sigma Amis Mag
Game Of Words Rank 561 Answers: Lamb Lumbar Album Mural Balm Rum Arm Rub Bar Blur Maul
Game Of Words Apollo Rank 562 Answers: Adage Dam Mag Aged Gem Damage Game Made Dame Mad Age
Game Of Words Apollo Rank 563 Answers: Chin Shin Has Inch Cash His Ash China Scan Sin Chain
Game Of Words Rank 564 Answers: Weak Keg Wad Wag Waged Wade Awed Aged Dew Wage Wake Awe
Game Of Words Apollo Rank 565 Answers: Ought Gut Tug Tough Hog Hug Gout Got Thug
Game Of Words Apollo Rank 566 Answers: Loyal Oral Roll Lay Royal Ally All Oar Alloy Rally Ray Orally
Game Of Words Apollo Rank 567 Answers: Nut Cent Cue Uncle Cut Clue Lent Cute Net Lute Tune Cult
Game Of Words Rank 568 Answers: Flan Loaf Foal Con Calf Coal Clan Focal Falcon Cola Fan Loan
Game Of Words Rank 569 Answers: Area Pear Rap Ape Pea Reap Appear Are Paper
Game Of Words Rank 570 Answers: Grit Rib Girth Rig Big Right Birth Bit Bright
Game Of Words Apollo Rank 571 Answers: Levy Liver Very Vile Livery Veil Ivy Rely Live Evil Vie
Game Of Words Apollo Rank 572 Answers: Rock Role Cork Clerk Core Locker Lore Coke Lock
Game Of Words Apollo Rank 573 Answers: Hot Choir Tic Trio Rich Torch Rot Itch Chit Riot Orc
Game Of Words Apollo Rank 574 Answers: Fed Feel Flee Edge Fee Feed Gel Leg Fled Ledge Glee
Game Of Words Rank 575 Answers: Base Beam May Seam Yes Say Same Maybe Mesa Easy Bye
Game Of Words Apollo Rank 576 Answers: She Sheep Sphere Peer Seer Her Spree Sheer Seep Here
Game Of Words Apollo Rank 577 Answers: Fungi Fig Lung Flu Flung Fun Gun Fling Fin Gulf
Game Of Words Apollo Rank 578 Answers: Fare Arena Fan Afar Fear Area Fern Far Earn Ran Near
Game Of Words Apollo Rank 579 Answers: Hotel The Clothe Colt Echo Cloth Holt Clot Hot Hole Lot
Game Of Words Rank 580 Answers: Doe Deer Reed Red Rode Eroded Rod Ode Odd Erode Deed
Game Of Words Rank 581 Answers: Left Cleft Let Fetch Felt Clef Chef The
Game Of Words Rank 582 Answers: Crib Incur Ruin Curb Rib Nub Cub Burn Bin Bun
Game Of Words Diana Rank 583 Answers: Racy Car Ark Rack Rank Arc Yarn Cranky Cry Crank
Game Of Words Rank 584 Answers: Slid Sill Ill Sly Dill Idly Silly Lid Idyll Lily
Game Of Words Rank 585 Answers: Coin Iron Micro Minor Rim Norm Noir Con Icon Corn
Game Of Words Rank 586 Answers: Relics Slice Ice Lice Isle Lie Cries Sir Rise Rice
Game Of Words Diana Rank 587 Answers: Gilt Hilt Fig Flight Fit Gift Lit Fight Lift Light Filth Flit
Game Of Words Rank 588 Answers: Holy Holly Oil Ill Hilly Lily Hill Oily
Game Of Words Rank 589 Answers: Ally Fat Tally Fall Tall Flat Flatly Fly
Game Of Words Diana Rank 590 Answers: Talk Act Hack Chalk Cat Latch Hat Halt Tack Chat Lack
Game Of Words Rank 591 Answers: Deft Fly Deftly Left Defy Dye Felt Yet Fled Fed
Game Of Words Diana Rank 592 Answers: Growl Row Wry Glow Low Log Owl Glory Grow Gory
Game Of Words Diana Rank 593 Answers: Gel Lace Clay Cagey G*y Leg Cage Lacy Legacy Lag Age Gale
Game Of Words Diana Rank 594 Answers: Atop Tap Utopia Pout Tip Pat Apt Patio Put
Game Of Words Diana Rank 595 Answers: Did Sled Idle Slid Isle Died Lid Slide Sidled Lied Sided Side
Game Of Words Rank 596 Answers: Nudge Edge Dug End Gun Need Den Dune Dung Gene
Game Of Words Diana Rank 597 Answers: Thief Ethic Chef Tic The Fetch Chief Ice Itch Fit Chit Cite
Game Of Words Rank 598 Answers: Reel Let Eel Leer Erect Tree Tee Elect
Game Of Words Diana Rank 599 Answers: Rig Fur Grief Rife Fire Rug Fir Urge Figure Fig
Game Of Words Vulcan Rank 601 Answers: Guide Sued Used Use Due Side Guise Die Dug Dig Sue
Game Of Words Vulcan Rank 602 Answers: Wise Sea Vase Save Saw Via Wave Visa Was Waive Wives View
Game Of Words Vulcan Rank 603 Answers: Orb Cob Micro Crib Brim Rob Mob Comb
Game Of Words Vulcan Rank 604 Answers: Over Role Core Lore Love Lover Clover Cover Clove Cove
Game Of Words Vulcan Rank 605 Answers: Wry Cow Row Cord Coy Crow Crowd Dowry Rowdy Cry Word
Game Of Words Vulcan Rank 606 Answers: Peak Cake Packed Caked Cap Deck Pace Pack Paced Cape Pad Peck
Game Of Words Vulcan Rank 607 Answers: Crop Toy Pot Port Top Coy Crypt Copy Cry
Game Of Words Vulcan Rank 608 Answers: Surfer Fuse Sure Fur User Sue Ruse Surer Use Serf Surf
Game Of Words Vulcan Rank 609 Answers: Heal Halved Veal Held Lead Halve Had Head Deal Vale Have
Game Of Words Vulcan Rank 610 Answers: Cone Oven Love Clone Cove Clove One Novel Once Lone Con
Game Of Words Vulcan Rank 611 Answers: Quiet Quip Pet Pique Put Pit Quit Tip Quite Equip Pie
Game Of Words Vulcan Rank 612 Answers: Rebel Tree Beer Leer Treble Bee Belt Let Beret Bet Beet Reel
Game Of Words Vulcan Rank 613 Answers: Cube Cone Nub Once Bounce Con Cub Bone Bun Cob Ounce
Game Of Words Vulcan Rank 614 Answers: Drop Dour Proud Duo Pour Our Pod Door Odour Rod Poor
Game Of Words Vulcan Rank 615 Answers: Red Elder Lender Need End Lend Reel Reed Leer Deer Den
Game Of Words Vulcan Rank 616 Answers: And Dam Amid Mad Mania Mind Maid Aim Main Aid
Game Of Words Vulcan Rank 617 Answers: Fold Fooled Food Fled Foe Flood Fed Dole Doe Fool Old
Game Of Words Vulcan Rank 618 Answers: Claw Cola Cow Local Callow Allow Wall Coal Law Low Call Cowl
Game Of Words Vulcan Rank 619 Answers: Slob Lose Sole Bloc Cob Close Lob Lobe Sob
Game Of Words Vesta Rank 620 Answers: Main Aim Mainly Man Nail Inlay Any Many Manly Lain Mail May
Game Of Words Vesta Rank 621 Answers: Deed Tended Tend Teen Dent Need Ten Net Tee End Ended Dented
Game Of Words Vesta Rank 622 Answers: Cede Deer Crepe Creed Creep Per Deep Peer Red Reed
Game Of Words Vesta Rank 623 Answers: Tag Goat Tan Got Ant Tango Gnat Tang Tong Toga Ago
Game Of Words Vesta Rank 624 Answers: Arm Arrow War Mow Roam Worm Raw Ram Marrow Warm Roar
Game Of Words Vesta Rank 625 Answers: Bond Undo Duo Bud Bun Bound Cub Dub
Game Of Words Vesta Rank 626 Answers: How Low Wholly Lowly Owl Why Holy Who Holly Howl
Game Of Words Vesta Rank 627 Answers: Filo Floss Silos Oil Loss Fossil Foil Soil
Game Of Words Vesta Rank 628 Answers: Urged Rude Peg Dug Urge Drug Purge Purged Rug Per Pure
Game Of Words Vesta Rank 629 Answers: Tip Sip Sit Sir Spit Iris Spirit Pit Strip Trip Rip Stir
Game Of Words Vesta Rank 630 Answers: Orc Occur Ouch Couch Crouch Hour Our
Game Of Words Vesta Rank 631 Answers: Halt Half Flat Haul Fat Hut Fault Hat Flu
Game Of Words Vesta Rank 632 Answers: Over Govern One Nor Ogre Ego Gore Oven Grove Gone
Game Of Words Vesta Rank 633 Answers: Err Are Ear Ease Sea Erase Era Seer Rare Rear See Eraser
Game Of Words Vesta Rank 634 Answers: Devote Veto Vote Doe Dove Vetoed Vet Toe Tee Dot Voted Eve
Game Of Words Vesta Rank 635 Answers: Mead Dame Made Beamed Bead Deem Bade Dab Bad Beam Bee Embed
Game Of Words Vesta Rank 636 Answers: Fill Frill Fly Fry Frilly Lily Fir Filly Ill
Game Of Words Vesta Rank 637 Answers: Icy Cyst Sky Ski Sick Kit Sit Tick Stick Sticky City
Game Of Words Vesta Rank 638 Answers: Work Woke Owe Rower Wok Wore Worker Woe Row Rework
Game Of Words Vesta Rank 639 Answers: Ale Sail Sale Sell Aisle Allies Sill Isle Seal All Ill
Game Of Words Saturn Rank 640 Answers: Orchid Rod Rich Cord Rid Chord Choir Cod Hid Orc
Game Of Words Saturn Rank 641 Answers: Fee Feet Stew West Ewes Wet Fewest Sweet Few Tee
Game Of Words Saturn Rank 642 Answers: Cart Arctic Air Tic Act Circa Arc Cat Car
Game Of Words Saturn Rank 643 Answers: Cod Led Cooled Code Clod Old Dole Cooed Cool Cold
Game Of Words Rank 644 Answers: Try For Frothy Fort Froth Toy Hot Forth Forty Fry Rot
Game Of Words Saturn Rank 645 Answers: Blast Salt Last Basalt Atlas Tab Bat Alas Stab Sat Slab
Game Of Words Saturn Rank 646 Answers: Inane Sane Insane Nine Sea Inn Sin
Game Of Words Saturn Rank 647 Answers: Elm Blur Lure Rule Lumber Rumble Rub Mule Blue Rum
Game Of Words Saturn Rank 648 Answers: Poison Snoop Pin N*p Son Soon Spoon Spin Snip Sip
Game Of Words Saturn Rank 649 Answers: Dig Gift Tide Deft Fit Tied Diet Edit Fetid Get Gifted Fed
Game Of Words Saturn Rank 650 Answers: Ink Sink Risk His Kin Shin Shirk Rink Ski Shrink Skin Sir
Game Of Words Saturn Rank 651 Answers: Beg Bud Budgie Guide Budge Bide Dig Dub Big Bug
Game Of Words Saturn Rank 652 Answers: Canon Con Can Canto Cat Coat Cannot Not Cant Act
Game Of Words Saturn Rank 653 Answers: Let Meet Tee Elm Melted Meted Met Deem Eel Led Melt Teem
Game Of Words Saturn Rank 654 Answers: Pure Pub Bumper Perm Rump Bump Rum Rub Burp
Game Of Words Saturn Rank 655 Answers: Leg Led Glued Edge Dug Ledge Gel Glue Elude Duel Glee Deluge
Game Of Words Saturn Rank 656 Answers: Into Got Toy Tying Gin Tong Tiny Toying Tin Not
Game Of Words Saturn Rank 657 Answers: War Wary Row Way Roar Arrow Awry Ray Raw Worry Oar
Game Of Words Saturn Rank 658 Answers: Cone Convey Con Cove Coven One Coy Envy Once Envoy Oven
Game Of Words Saturn Rank 659 Answers: Decoy Comedy Coy Dye Come Mode Dome Code Cod
Game Of Words Sol Rank 660 Answers: Sit Stingy Tin Tiny Sign Gist Sing Tying Gin Sting
Game Of Words Sol Rank 661 Answers: Wing Wain Akin Kin Win Waking Ink Wink Gain King Wig
Game Of Words Sol Rank 662 Answers: Site Vote Stove Veto Soviet Vest Sit Its Vet Tie Set Toe
Game Of Words Sol Rank 663 Answers: Ooze Mood Mode Doom Zoo Zoomed Doze Dome Zoom Oozed
Game Of Words Rank 664 Answers: Froze Zero Nor Foe Fen Fern Fore Frozen Zone Fro For One
Game Of Words Sol Rank 665 Answers: Fin Infant Fat Fiat Fan Faint Fit Inn
Game Of Words Sol Rank 666 Answers: Growth Tow Hog Hot Two How Grow Worth Throw
Game Of Words Sol Rank 667 Answers: Rude Reed Deuce Curd Red Cured Reduce Cure Creed Cede Crude Deer
Game Of Words Sol Rank 668 Answers: Pit Light Pig Tip Hip Lip Hilt Gilt Pith Plight Lit
Game Of Words Sol Rank 669 Answers: Rig Ever Verge Grieve Vie Give Ire Giver Eve
Game Of Words Sol Rank 670 Answers: Lord Dollar All Load Roll Ado Oral Oar Lard Droll Road Doll
Game Of Words Rank 671 Answers: Eye Sheer Her Shy She Rye Seer Heresy Here Yes
Game Of Words Rank 672 Answers: Ice Slice She Chisel His Lice Isle Lie
Game Of Words Sol Rank 673 Answers: Icon Chiffon Con Chin Ion Inch Coffin Fin Coin Finch Off
Game Of Words Rank 674 Answers: Duel Sued Gel Used Leg Sue Glue Glued Use Sludge Slug Sled
Game Of Words Sol Rank 675 Answers: Sewer Slew Seller Leer Were Sell Reel Well Resell Else Swell
Game Of Words Sol Rank 676 Answers: Ding Nil Gild Idling Dying Dingy Lid Dig Lying Gin Idly Din
Game Of Words Rank 677 Answers: Nag Avenge Van Vegan Even Gave Eve Gene Vane Age
Game Of Words Sol Rank 678 Answers: Jog Ogre Role Lore Ergo Gore Jogger Leg Egg Gorge Log Ego
Game Of Words Sol Rank 679 Answers: Dab Based Beads Eased Base Seabed Bad Seed Sad Bed Ease
Game Of Words Flora Rank 680 Answers: Rugged Fed Urge Rude Rug Drug Fudge Dug Urged Egg Grudge Feud
Game Of Words Flora Rank 681 Answers: Sure Nurse Run Urn Sun Rune Unsure Rue Sue Use Ruse User
Game Of Words Flora Rank 682 Answers: Gild Dig Sliding Lid Idling Sling Sidling Sing Slid Ding Sign Siding
Game Of Words Flora Rank 683 Answers: Shy Ill Shrill Sly Silly Lily His Hill Shrilly Hilly Sill
Game Of Words Flora Rank 684 Answers: Reeled Recede Elder Decree Leer Deer Creed Leered Reed Cede Eel Reel
Game Of Words Flora Rank 685 Answers: Pore Per Prone Reopen Rope Open Opener One Peer Nee Pen
Game Of Words Flora Rank 686 Answers: Piped Pipe Dope Popped Pie Pop Doe Pipped Pope Pip Pod
Game Of Words Flora Rank 687 Answers: Icon Doing Dig Coding Cod Ding Cog Coin God Dog Dong Con
Game Of Words Flora Rank 688 Answers: A***s Say Easy Yes Bass Bay Essay Abyss Base Bye Basses
Game Of Words Flora Rank 689 Answers: Deep Does Pose Speed Dose Depose Posed Sped Seed Dope Seep Sop
Game Of Words Flora Rank 690 Answers: Hid Icy Child Lid Idly Chilly Dill Chill Lily Hill Idyll Hilly
Game Of Words Flora Rank 691 Answers: Yore Lover Lore Very Rely Lyre Vole Levy Love Overly Role Over
Game Of Words Flora Rank 692 Answers: Apse Spa Pad Pea Sped Apes Sapped Sap Spade Sad
Game Of Words Flora Rank 693 Answers: Clay Many May Lacy Clan Clam Lay Lunacy Man Maul Manly Calm
Game Of Words Flora Rank 694 Answers: Singly Shy Shin Sigh Sling Shiny Sin Lying Sign Sing
Game Of Words Flora Rank 695 Answers: True Rite Utter Turret Tie Tire Tier Trite Truer
Game Of Words Flora Rank 696 Answers: Fro Foe For Fervour Rover Euro Fur Furore Over Four Fore Ore
Game Of Words Flora Rank 697 Answers: Deer Tee Deter Edge Get Red Tree Greeted Greet Degree Reed Greed
Game Of Words Flora Rank 698 Answers: Daze Zeal Dazzle Lead Dale Dead Add Dad Dazed Dazzled Ale Deal
Game Of Words Flora Rank 699 Answers: Brewery Brewer Berry Beer Web Brew Bye Ewe Wry Eye Were
Game Of Words Pluto Rank 700 Answers: Row Dry Rosy Word Sow Wordy Sword Drowsy Wry Rowdy Dowry
Game Of Words Rank 701 Answers: Tidy Din Unity Tin Tiny Duty Nut Untidy Dint Unit Tun
Game Of Words Rank 702 Answers: Bob Blow Bowl Low Boy Blob Lobby Bow Wobbly Owl
Game Of Words Pluto Rank 703 Answers: Wire Wick Wicker Ire Ice Rice Crew Weir Wreck
Game Of Words Pluto Rank 704 Answers: Rush Truth Trust Thrust Hurt Thus Shut Strut
Game Of Words Pluto Rank 705 Answers: Mess Died Diss Dim Dime Did Missed Sided Mid Miss Side
Game Of Words Pluto Rank 706 Answers: Warn Now Narrow Roar Row Arrow Raw Wow War Worn
Game Of Words Pluto Rank 707 Answers: Shoot Shot Hoot Shoo Most Moths Hot Host Moot Smooth Soot
Game Of Words Pluto Rank 708 Answers: Void Doing Dig Indigo God Diving Ding Nod Dog
Game Of Words Pluto Rank 709 Answers: Shark Ark Iris His Rash Shirk Hark Ski Air Risk Hair
Game Of Words Pluto Rank 710 Answers: Icing Grin Ring Rig Tiring Grit Ting Tin Citing Gin
Game Of Words Pluto Rank 711 Answers: Copy Sip Icy Mop Myopic Cosy Spy Spicy Posy Sop
Game Of Words Pluto Rank 712 Answers: Omen Yoke Key Men Money Norm Monkey One Yore Monk More
Game Of Words Pluto Rank 713 Answers: Pet Duet Yet Dupe Duty Deputy Dye Put Type Typed
Game Of Words Pluto Rank 714 Answers: Loop Prolong Log Poor Long Prong Goon Logo Polo Pool
Game Of Words Pluto Rank 715 Answers: Smell Seller Else Mere Reel Resell Seer Leer Seem Elm
Game Of Words Pluto Rank 716 Answers: Heel Shed Delve Eels Sled Seed Else Held Shelved Heed Elves Shelve
Game Of Words Pluto Rank 717 Answers: Yet Tier Tire Rivet Vet Rite Tie Tyre Vert Very Verity Ivy
Game Of Words Pluto Rank 718 Answers: Sashes Ashes Sea She Has Ashen Sash Sane Hen Ness Ash
Game Of Words Pluto Rank 719 Answers: Mount Not Tout Unto Mutton Out Tut Nut Nutty You
Game Of Words Aphrodite Rank 720 Answers: Trot Root Too Tarot Art Orator Tart Roar Rotor
Game Of Words Aphrodite Rank 721 Answers: Root Rout Out Rat Roar Art Rot Rotor Too Tour Tar Orator
Game Of Words Aphrodite Rank 722 Answers: Bid Bee Beside Bedside Bide Died Side Eddies Deed Seed Bed Sided
Game Of Words Aphrodite Rank 723 Answers: Group Pour Rip Grip Pig Pug Purr Prig Prior Rug Rigour
Game Of Words Aphrodite Rank 724 Answers: Hilt Lit Light Right Girl Gilt Girth Grit Rightly
Game Of Words Aphrodite Rank 725 Answers: Pin Fungi Puffin Pun Puffing Puff Ping Pig Gun Pug N*p
Game Of Words Aphrodite Rank 726 Answers: Sit Pity Spit Typist City Spicy Its Tipsy Pit Cyst Spy Tip
Game Of Words Aphrodite Rank 727 Answers: Minus Bus Sun Nub Snub Nimbus Bin Bun Numb
Game Of Words Aphrodite Rank 728 Answers: Bee Bleep Pebble Ebb Deep Bleed Beep Bled Ebbed Bed Peel
Game Of Words Rank 729 Answers: Elm Simile Mile Slim Smile Slime Isle Lie Lime
Game Of Words Aphrodite Rank 730 Answers: Sue Expel Peel Plus Seep Pulse Sleep Pus Else Eels
Game Of Words Rank 731 Answers: Carrot Cat Actor Cart Art Arc Coat Act Car Roar Rat
Game Of Words Aphrodite Rank 732 Answers: Gloss Glory Loss Grossly Gross Gory Sly Rosy Glossy Log
Game Of Words Aphrodite Rank 733 Answers: Aural Can Clan Lunar Aura Car Lacuna Carnal Canal Curl
Game Of Words Aphrodite Rank 734 Answers: Sordid Odd Rid Did Rod Cord Disco Disc Orcs Discord Sir Cod
Game Of Words Aphrodite Rank 735 Answers: Maxima Max Mail Maxim Maximal Axial Mix Aim Ail
Game Of Words Aphrodite Rank 736 Answers: Nose Snore Soon One Rose Son Noose Sore Sooner Nor
Game Of Words Rank 737 Answers: Sly Soy Soft Lofty Slot Fly Softly Oft Toy Lost Lots Loft
Game Of Words Rank 738 Answers: Ply Pop Ploy Spy Soppy Sly Posy Sop Sloppy
Game Of Words Aphrodite Rank 739 Answers: Sire Cries Kicker Kier Risk Sick Rise Rice Kick Skier
Game Of Words Ares Rank 740 Answers: Dew Dye Dyed Eyed Wed Weedy Dewy Weed Eye Deed Weeded Eddy
Game Of Words Ares Rank 741 Answers: Fat Ultra Raft Far Artful Art Rat Flat Turf Fault
Game Of Words Ares Rank 742 Answers: Gun And Nudge Dung Dune Age Dug Nun Gunned Aged Dean
Game Of Words Ares Rank 743 Answers: Kin Ink Neck Cue Quicken Ice Nick Quince Nice Quick
Game Of Words Ares Rank 744 Answers: Dove Does Shed Shod Hose Ode Shoe Shoved Dose Shove She
Game Of Words Ares Rank 745 Answers: Lag Fun Gulf Flan Flung Gun Fungal Flag Fan Lung
Game Of Words Ares Rank 746 Answers: Boo Bond Nobody Bony Body Boy Boon Nod Noon
Game Of Words Ares Rank 747 Answers: Erred Deem Deer Demure Drum Rude Murder Rum Reed Mere Mud
Game Of Words Ares Rank 748 Answers: Aural Annual Ran Annul Aura Nun Lunar Run
Game Of Words Ares Rank 749 Answers: Thin Hilt Tinny Lit Tiny Ninth Hint Til Inn Thinly Lint
Game Of Words Rank 750 Answers: Firing Fin Rig Filing Girl Fling Gin Ring Fir Grin Nil Fig
Game Of Words Ares Rank 751 Answers: Dove Eve Eyed Evoke Dye Key Evoked Yoke Eye Doe Keyed
Game Of Words Ares Rank 752 Answers: Did Die Dire Grid Rigid Ridge Died Dried Dig Ride Ridged
Game Of Words Ares Rank 753 Answers: Was Sallow Owl Law Slow Saw Allow Low Also Wall Sow
Game Of Words Ares Rank 754 Answers: The Tip Petite Epithet Pit Teeth Hip Tithe Pie Tie Pith
Game Of Words Ares Rank 755 Answers: Sash Lap Spa Asp Ash Sap Lash Slash Slap Pass Splash
Game Of Words Ares Rank 756 Answers: Rid Try Lit Idly Drily Dirty Til Dirt Dry Lid Tidily Tidy
Game Of Words Ares Rank 757 Answers: Sort Tort Grotto Torso Got Roost Goo Soot Root Trot
Game Of Words Ares Rank 758 Answers: Rub Rubble Blubber Bulb Ebb Bubble Lure Blue Rue Rule Blur Blurb
Game Of Words Ares Rank 759 Answers: Defuse Fused Sued Feed Suede Fed Seed Fuse Feud Used Fee
Game Of Words Artemis Rank 760 Answers: Here Herb Heel Rebel Beech Leech Breech Cheer Reel Leer Beer
Game Of Words Artemis Rank 761 Answers: Citrus Cut Crust Rust Its Sit Curt Suit Rustic Stir
Game Of Words Artemis Rank 762 Answers: Cherub Hub Rub Hue Cure Cub Berch Cube Curb Herb Her
Game Of Words Rank 763 Answers: Gel Pledge Leg Ledge Glee Eel Deep Peeled Edge Peg Peel
Game Of Words Rank 764 Answers: Rosy Sort Toy Try Soy Storm Rot Stormy Most Story
Game Of Words Artemis Rank 765 Answers: Sold Soul Old Sound Onus Unsold Undo Loud Dons Sun Son
Game Of Words Artemis Rank 766 Answers: Jaded Add Jade Age Judge Dead Dad Jug Aged Judged Dug
Game Of Words Artemis Rank 767 Answers: Dictum Lid Mid Duct Lucid Cut Cult Dim Cud Mud Mild
Game Of Words Artemis Rank 768 Answers: Polo Loop Pool Poor Ply Poorly Loopy Pry Ploy
Game Of Words Artemis Rank 769 Answers: Pet Peter Peer Pen Tree Repent Pert Teen Rent Tern Enter Net
Game Of Words Rank 770 Answers: Reek Kneel Knee Reel Keen Leer Keener Kernel Leek Keel
Game Of Words Artemis Rank 771 Answers: Mobile Mile Limb Oil Limbo Mole Boil Lime Bile Mob Lobe
Game Of Words Artemis Rank 772 Answers: Aged Age Ate Date Gadget Eat Gated Tag Gate Tagged Tea
Game Of Words Artemis Rank 773 Answers: Shoo Hose Chose Coy Shoe Cosy Choose Yes She Choosy Shy Echo
Game Of Words Artemis Rank 774 Answers: Rib Bee Beer Ever Verb Vibe Reverb River Eve Veer Vie
Game Of Words Artemis Rank 775 Answers: Coffee Off Fen Once Offence Cone Foe Fee Con Fence One
Game Of Words Artemis Rank 776 Answers: Are Square Rear Rare Sure Ear Era Surer Ruse User Sea
Game Of Words Artemis Rank 777 Answers: Tester Rest Tree Reset Test Terse Setter Seer Street Steer
Game Of Words Artemis Rank 778 Answers: Solely Lose Closely Sell Close Sole Cosy Yell Cello Cell
Game Of Words Artemis Rank 779 Answers: Moat Atom Mat Iota Omit Coat Atomic Coma Comic
Game Of Words Athena Rank 780 Answers: Mass Mars Ham Harm Amass Sham Smash Mash Rash Marsh Harass Sash
Game Of Words Athena Rank 781 Answers: Ever Deer Reed Err Revered Red Veered Erred Veer Eve
Game Of Words Athena Rank 782 Answers: Age Eagle Glee Ale Bag Beg Able Gable Beagle Bee Bale Gale
Game Of Words Athena Rank 783 Answers: Ilk King Licking Kin Link Clink Nick Icing Cling Kiln Lick Liking
Game Of Words Athena Rank 784 Answers: Seduce Succeed Deuce Used Cud Scud Seed Suede Sued Cue
Game Of Words Athena Rank 785 Answers: Yours Cursor Cosy Orcs Rosy Sour Cursory Sorry Scour Curry You
Game Of Words Athena Rank 786 Answers: Silica Ail Has Clash Sac His Ash Cash Lash Hail Chili Sail
Game Of Words Athena Rank 787 Answers: Even Never Verge Veneer Green Ever Gene Renege Nerve Genre Revenge
Game Of Words Athena Rank 788 Answers: Reef Fiercer Free Crier Fierce Fee Rife Refer Rice Fire
Game Of Words Athena Rank 789 Answers: Mat Moat Motto Tomato Too Atom Moot Matt
Game Of Words Athena Rank 790 Answers: She Heel See Vessel Elves Selves Eve Else Shelves Less
Game Of Words Athena Rank 791 Answers: Gurney Urge Runny Rug Gunner Rung Gun Guy Nun Gunnery Rune
Game Of Words Athena Rank 792 Answers: Echo Hog Hose Echoes She Goes Shoe See Cog Chose Ego
Game Of Words Athena Rank 793 Answers: Alas Salami Ail Alias Slam Sail Mail Alms Slim Aim Amis
Game Of Words Athena Rank 794 Answers: Lung Long Luck Clunk Clog Cog Lock Con Unlock Clung Gun Log
Game Of Words Athena Rank 795 Answers: Mica Ifs Massif Scam Sac Miss Fascism Mass Amiss
Game Of Words Athena Rank 796 Answers: Held Let Heed Led Heel Leech Etched Eel The Elect
Game Of Words Athena Rank 797 Answers: Emerge Mere Merge Gem Seer Geese See Germ Seem
Game Of Words Rank 798 Answers: Novel Lovely Oven Volley Envoy Love Lone Envy Yell Lonely Only
Game Of Words Athena Rank 799 Answers: Vane Anew New Even Awe Wave Wane Venue Weave Avenue Wean
Game Of Words Dionysus Rank 800 Answers: Rubber Ruse Surer Bus Err Sue Sure Burr Ebb Rub User
Game Of Words Dionysus Rank 801 Answers: Peered Tree Reed Peer Deeper Deter Pert Deep Petered Peter Deer Pet
Game Of Words Dionysus Rank 802 Answers: Rest Reset Crest Terse Steer Sect Tree Erect Scree Secret
Game Of Words Dionysus Rank 803 Answers: Die Koi Vie Doe Evoked Dive Dove Evoke Video Kid Void Vied
Game Of Words Dionysus Rank 804 Answers: Shut Must Thymus Musty Mush Mushy Myth Sum Thus Hum Hut
Game Of Words Dionysus Rank 805 Answers: Recede Decree Red Erect Cede Creed Reed Tee Deer Deter Erected Tree
Game Of Words Dionysus Rank 806 Answers: Modi Podium Pod Dump Opium Dim Mop Mid Odium Dip Mud
Game Of Words Rank 807 Answers: Ranch Roach Can Corn Arch Horn Acorn Con Anchor Char Orc Car
Game Of Words Rank 808 Answers: Rabbit Bait Bat Barb Bar Rib Tab Bra Bit Rabbi
Game Of Words Dionysus Rank 809 Answers: Wound Union Din Nun Wind Duo Unwind Undo Nod Inn Down Noun
Game Of Words Dionysus Rank 810 Answers: Sue Miss Sum Misuse Emu Mess Muse Use Issue
Game Of Words Dionysus Rank 811 Answers: Duel Delude Deed Led Elude Due Dull Eel Dulled Eluded
Game Of Words Dionysus Rank 812 Answers: Elfin Lie Fly Line Fen Life Finely Fine Fin Lien File Elf
Game Of Words Dionysus Rank 813 Answers: Nosy Hop Posy Son Pony Shop Syphon Spy Sop Shy Phony
Game Of Words Dionysus Rank 814 Answers: Soar Saviour Visa Visor Virus Savour Various Via Air Sour
Game Of Words Dionysus Rank 815 Answers: Our Valour Ray Vary Lay Oral Your Royal You Oval
Game Of Words Dionysus Rank 816 Answers: Rib Burr Scrub Curb Crib Bus Rub Rubric Sir Cubs
Game Of Words Dionysus Rank 817 Answers: Lure Puddle Per Rude Ruled Lured Dupe Rule Duel Duped Pure Udder
Game Of Words Dionysus Rank 818 Answers: Lure Lute Turtle Rue Rut Rule Let True Utter
Game Of Words Dionysus Rank 819 Answers: Chip Cop Coin Chop Phonic Inch Hip Pinch Chin Hop Icon
Game Of Words Hades Rank 820 Answers: Sue Dose Douse Ode Sued Duo Does Used Use Exodus Due
Game Of Words Hades Rank 821 Answers: Tent Teen Ten Tee Net Extent Tenet Text Next
Game Of Words Rank 822 Answers: End Din Vied Vine Dine Divine Die Vie Den Vein Dive
Game Of Words Hades Rank 823 Answers: Hood Too Toothed Doe Hoot Dot Tooth Hot Hooted Toe
Game Of Words Hades Rank 824 Answers: Coil Cola Alias Soil Coal Also Silo Sail Social Loci Alas
Game Of Words Hades Rank 825 Answers: Reign Ring Rig Gene Green Renege Eerie Genre Grin Ire Rein Genie
Game Of Words Hades Rank 826 Answers: Ark Ran Shark Khan Sank Shrank Rank Shank Ask Rash Hark
Game Of Words Hades Rank 827 Answers: Desk Speed Keep Seek Seed Speck Peck Deck Peek Pecked Sped
Game Of Words Hades Rank 828 Answers: Abyss Say Asp Pass Spa Bass Bypass Sap Bay Pay
Game Of Words Hades Rank 829 Answers: Tore Core Reject Cote Jet Erect Jot Toe Tree Rot Rote Eject
Game Of Words Hades Rank 830 Answers: Sail Sac Basic Bail Silica Bias Scab Basil Cab Alibi Slab
Game Of Words Rank 831 Answers: Invite Tie Tune Net Untie Unite Vein Vet Vent Unit Vie Vine
Game Of Words Hades Rank 832 Answers: Full Awful Fall Law Flaw Wall Lawful All Flu
Game Of Words Hades Rank 833 Answers: Moss Alms Loam Mall Slalom Mass Also Slam Loss Small
Game Of Words Hades Rank 834 Answers: Use Cue Clue Isle Lieu Sluice Slice Lice Sue Lie Ice
Game Of Words Hades Rank 835 Answers: Dole Dove Eve Evolved Vole Old Doe Loved Devolve Love Delve Evolve
Game Of Words Hades Rank 836 Answers: Chew Heel Eschew Slew Leech Wheel Else Ewes Hew Eels
Game Of Words Hades Rank 837 Answers: Ballad Ball Bad Slab All Dab Salad Bald Alas Sad
Game Of Words Hades Rank 838 Answers: Basic Ace Cab Babies Case Bias Babe Scab Base Ebb
Game Of Words Rank 839 Answers: Goon Oozing Boon Big Goo Bin Boo Bingo Zoo
Game Of Words Hera Rank 840 Answers: Cutlet Lute Cut Cute Cult Lettuce Clue Elect Let Cue Eel
Game Of Words Hera Rank 841 Answers: Glue Lag Leg Gag Ale Gaggle Luggage Age Gauge Egg Gale
Game Of Words Hera Rank 842 Answers: Wing Wig Win New Engine Ewe Gene Wine Nine Inn Genie
Game Of Words Hera Rank 843 Answers: Given Give Vein Genie Evening Even Vine Engine Vie Gene Nine
Game Of Words Hera Rank 844 Answers: Polar Rap Uproar Purr Pour Rural Roar Parlour Lap Oral Opal
Game Of Words Hera Rank 845 Answers: Thirst Sit Hits This Thirty Stir Its Shirt Thirsty Shy Try
Game Of Words Rank 846 Answers: Rust Duty Rut Sturdy Study Dry Yurt Dusty Try Stud Rusty Dust
Game Of Words Rank 847 Answers: Til Ill Gilt Ting Lint Gill Tiling Glint Till Lit Lilt Nil
Game Of Words Hera Rank 848 Answers: Big Mob Combing Bingo Bog Icon Cog Comb Coin Coming Cob
Game Of Words Hera Rank 849 Answers: Wig Beg Wine Ebbing Big Bin Being Binge Web Wing Begin New
Game Of Words Hera Rank 850 Answers: Bush Bass Quash Ash Bash Sash Squash Hub Bus
Game Of Words Hera Rank 851 Answers: Honor Con Boo Orc Rob Brooch Cob Horn Corn Boon Born Orb
Game Of Words Hera Rank 852 Answers: Bossy Symbol Boy Loss Slob Moss Mob Lob Sob Mossy Boss Sly
Game Of Words Hera Rank 853 Answers: Tie Quilt Quite Quit Lute Quietly Equity Yet Lite Lieu Quiet Tile
Game Of Words Hera Rank 854 Answers: Vastly Lay Salty Vast Stay Salt Last Vat Slay Sat
Game Of Words Hera Rank 855 Answers: Sell Sole Solely Solo Loose Lose Yell Sly Loosely Yes
Game Of Words Rank 856 Answers: Ionic Biotic Bit Tonic Bin Coin Icon Con Into Not Cob
Game Of Words Hera Rank 857 Answers: Annexed Den End Need Dean Annex Axed Axe And
Game Of Words Hera Rank 858 Answers: Physic Ship Psychic Spy Spicy His Shy Icy Hip Chic Sip Chip
Game Of Words Hera Rank 859 Answers: Sea Easier Rise Ease Seer Are Ire Sir Raise Sire Arise Erase
Game Of Words Hermes Rank 860 Answers: Loosed Sole Loose Old Dole Solo Lose Sold Sled Does Dose
Game Of Words Hermes Rank 861 Answers: Revoke Rover Over Veer Eve Evoke Ever Err Ore Roe Reek
Game Of Words Hermes Rank 862 Answers: Luck Loan Lank Lack Cola Unlock Coal Lock Oak Clan Cloak Clunk
Game Of Words Hermes Rank 863 Answers: Furrow Wry Worry Row Fro Fry You Fury Furry Four Your For
Game Of Words Hermes Rank 864 Answers: Deluxe Deuce Clue Elude Cud Duel Excel Cue Cede Eel Exclude
Game Of Words Hermes Rank 865 Answers: Sped Sled Sleep Speed Peel Seep Deed Peddle Deep Else
Game Of Words Hermes Rank 866 Answers: Sheer Seer Scheme Hem Mesh Mere Cheer Scree Seem Here
Game Of Words Hermes Rank 867 Answers: User Sure Use Squire Sire Rise Seer Esquire Reuse Ruse Queries Sue
Game Of Words Hermes Rank 868 Answers: Taint Titan Navy Via Vanity Vat Tiny Vain Van Tint Ivy
Game Of Words Hermes Rank 869 Answers: Revue Never Revenue Rune Run Venue Veneer Ever Even Nerve Veer
Game Of Words Hermes Rank 870 Answers: Loam Also Loan Salon Alms Man Moan Mason Son Salmon Slam
Game Of Words Hermes Rank 871 Answers: Icing Ticking Ink Kit King Kin Citing Tick Knit Ting Nick Tic
Game Of Words Hermes Rank 872 Answers: Soul Cosy Lush Such Lousy Coy Locus Slouch Ouch You Holy
Game Of Words Hermes Rank 873 Answers: Run Sun Urn Churn Rush Such Shun Crunch Crush
Game Of Words Hermes Rank 874 Answers: Wives Isle Wise Live View Evil Wiles Swivel Veil Vile Slew
Game Of Words Hermes Rank 875 Answers: Mutant Mat Man Taut Nut Ant Matt Tuna Tan Taunt
Game Of Words Hermes Rank 876 Answers: Oboe Cob Combo Come Boom Mob Comb Boo
Game Of Words Hermes Rank 877 Answers: Belong Noble Log Ego Lob Gone Lone Beg Long Globe Bone Lobe
Game Of Words Hermes Rank 878 Answers: Funnel Foul Fun Neon None Noun Lone Felon Fuel
Game Of Words Hermes Rank 879 Answers: Virgin Grind Riding Diving Rigid Driving Grid Rid Ding Grin Rind Ring
Game Of Words Hestia Rank 880 Answers: Iced Cede Dip Pie Pieced Die Ice Piece Dice Deep Epic
Game Of Words Rank 881 Answers: Her Cruder Hue Crude Rude Cue Cured Herd Cure Cud Recur Curd
Game Of Words Hestia Rank 882 Answers: Pip Piped Pin Pen Pipe Dip End Nipped Dine Pine
Game Of Words Hestia Rank 883 Answers: Tick Trick City Ilk Kilt Lyric Lick Cry Icy Kit Tricky
Game Of Words Hestia Rank 884 Answers: Seeker Serene Sneer Reek Seek Seen Keen Seer See Knee
Game Of Words Hestia Rank 885 Answers: Jerking Rink King Grin Ring Rein Reign Keg Kin Jig
Game Of Words Hestia Rank 886 Answers: Big Owing Now Bow Gown Bowing Bingo Win Own Bin Wing
Game Of Words Hestia Rank 887 Answers: Any Sneak Sake Sky Easy Snake Sane Key Sneaky Sank
Game Of Words Hestia Rank 888 Answers: Pair Rim Ram Map Impair Ramp Arm Mar Rip Prim
Game Of Words Hestia Rank 889 Answers: Ink Lie Kin Unlike Lien Line Ilk Like Lieu Liken Kiln Link
Game Of Words Hestia Rank 890 Answers: Ting Intent Tint Tie Tent Netting Get Tinge Inn Net Ten Nine
Game Of Words Rank 891 Answers: Tin Tong Ting Gong Toning Into Noting Going Gig Inn Got Not
Game Of Words Hestia Rank 892 Answers: Mood Doom Inn Dim Mind Noon Moon Onion Mid Domino
Game Of Words Hestia Rank 893 Answers: Creed Her Cheer Cheered Here Reed Heed Decree Deer Cede Herd Recede
Game Of Words Hestia Rank 894 Answers: Soak Oak Soaked Sad Dose Soda Sake Asked Does Desk Ado
Game Of Words Hestia Rank 895 Answers: His Hijack Sack Cask Cash Shack Sick Jack Sac Hack Ski
Game Of Words Rank 896 Answers: Owning Inn Now Gig Going Gown Gong Wing Owing Wig Own Win
Game Of Words Hestia Rank 897 Answers: Sled Sped Led Dupe Plus Pulse Due Sued Duel Pus Pulsed Used
Game Of Words Hestia Rank 898 Answers: Clutch Haul Halt Latch Act Cult Hat Cat Talc Hut Catch Chat
Game Of Words Hestia Rank 899 Answers: Calf Fiscal Sac Alas Alias Sail Ail Fail Facial
Game Of Words Poseidon Rank 900 Answers: Sandal Laud Salad Alas Dual Land Sand Nasal Sauna
Game Of Words Poseidon Rank 901 Answers: Deed Dune Pun Duped Ended End Dupe Den Depend Pen Deep Need
Game Of Words Poseidon Rank 902 Answers: Horn Hop Nor Ran Harp Pan Nap Rap Orphan Apron
Game Of Words Poseidon Rank 903 Answers: Regent Greet Tern Green Genre Net Teen Rent Tree Gene Enter
Game Of Words Poseidon Rank 904 Answers: Ten Tin Tie Tinge Net Ignite Gin Ting Exit Exiting Next Get
Game Of Words Poseidon Rank 905 Answers: Pun Aura Lap Nap Planar Pan Aural Lunar Plan
Game Of Words Poseidon Rank 906 Answers: Here Hem Ember Bye Herb Rye Beer Mere Her Rhyme Hereby Emery
Game Of Words Rank 907 Answers: Ilk Lie Sick Slick Silk Sickle Lick Slice Isle Like Ski Lice
Game Of Words Poseidon Rank 908 Answers: Live Isle Veil Vile Rise Silver Evil Sire Liver Sliver
Game Of Words Poseidon Rank 909 Answers: Pest Seep Pet Steppe Steep Peep Set Tee See Step
Game Of Words Poseidon Rank 910 Answers: Chat Cat Chatty Thatch Act Yacht Tact That Hat Hay Hatch
Game Of Words Poseidon Rank 911 Answers: Tan Fiat Fan Fat Aft Fit Faint Ant Taint Attain Titan Tint
Game Of Words Rank 912 Answers: Crusty Crust Rusty Try Yurt Rust Cyst Cry Curt Rut Cut
Game Of Words Poseidon Rank 913 Answers: Boss Bass Oases Base Biases Bias Oasis Sob Boa Basis
Game Of Words Poseidon Rank 914 Answers: Rise Virus Sure Versus Issuer Sue Vie Ruse User Viruses Issue
Game Of Words Poseidon Rank 915 Answers: Roar Dour Judo Ardour Juror Road Rod Ado Duo Jar
Game Of Words Poseidon Rank 916 Answers: Read Dearer Rear Reader Reed Rare Dear Are Dare Erred Reared Deer
Game Of Words Poseidon Rank 917 Answers: Rover Over Remove Veer Ore More Mover Remover Ever Mere Roe Move
Game Of Words Poseidon Rank 918 Answers: See Else Sleeve Seven Eels Even Eleven Lens Eve Elves Seen
Game Of Words Poseidon Rank 919 Answers: Cake Caked Leak Laced Lacked Lack Deal Lead Lace Clad Lake
Game Of Words Atlas Rank 920 Answers: Sock Toy Cost Soy Stocky Coy Stock Cosy Cyst Sky
Game Of Words Atlas Rank 921 Answers: Coy Key Coke Joy Yoke Jokey Joke Jockey Joey
Game Of Words Atlas Rank 922 Answers: Per Rife Fixer Ripe Pie Rip Fix Prefix Pier Fire Ire Fir
Game Of Words Atlas Rank 923 Answers: Then Sent Cent Chest Sect Scent The Hen Stench Nest
Game Of Words Atlas Rank 924 Answers: Mix Mica Claim Calm Clam Climax Aim Ail Mail
Game Of Words Atlas Rank 925 Answers: Lag Inn Nail Ailing Nag Ail Lining Gain Nil Align Lain
Game Of Words Atlas Rank 926 Answers: Gain G*y Cane Icy Age Cagey Agency Cage Nice Any Acne Can
Game Of Words Atlas Rank 927 Answers: Gain Lain Glazing Nail Gazing Gag Gang Nil Lag Gig Align
Game Of Words Atlas Rank 928 Answers: Love Hose Hole Lose She Shoe Hovel Sole Solve Vole Shovel Shove
Game Of Words Atlas Rank 929 Answers: Bus Busy Busily Blush Lush Bushy Bush Bluish Buy His Hub
Game Of Words Atlas Rank 930 Answers: Limit Mid Mild Idly Lid Timidly Timid Tidily Dimly Tidy
Game Of Words Atlas Rank 931 Answers: Germ Mime Mire Grime Rime Rim Grim Rise Gem Miser Simmer Sire
Game Of Words Atlas Rank 932 Answers: The Defect Fetched Heed Fetch Cede Deft Chef Feet Etched Feed
Game Of Words Atlas Rank 933 Answers: She Seek Set These The Sketch Chest Sheet Ketch Sect Cheek
Game Of Words Atlas Rank 934 Answers: Stucco Cut Out Oust Cost Scout Toss
Game Of Words Rank 935 Answers: Weld Welled Deed Dew Weed Well Dwell Ewe Lewd Welded Wed
Game Of Words Atlas Rank 936 Answers: Puny Cap Pun Punch Paunch Cup Pay Pan Nap Chap
Game Of Words Atlas Rank 937 Answers: Fifth Filthy Filth Fifty Fifthly Fly Lift Fit Hilt Flit
Game Of Words Atlas Rank 938 Answers: Men Immune Menu Muse Sum Emu Sun Minus Mime Mine
Game Of Words Rank 939 Answers: Detect Steed Set Tee Tested Seed Cede Sect Detest See Test
Game Of Words Cronus Rank 940 Answers: Old Loop Pooled Pod Polo Dole Pool Poodle Looped Loped Pole Dope
Game Of Words Cronus Rank 941 Answers: Sea Mass Same Mesa Ease Masses Sesame Messes Seem Seam Mess
Game Of Words Cronus Rank 942 Answers: Scythe Sect Dye Cyst Yet They Set Shed The Chest
Game Of Words Cronus Rank 943 Answers: Eels Scene Seer Seen Sneer Screen Scree Leer Reel Else Lens
Game Of Words Cronus Rank 944 Answers: Bottom Motto Boo Tomb Boot Boom Moot Mob Too
Game Of Words Cronus Rank 945 Answers: Chit Tic Lit Glitch Itch Light Hilt Gilt Til
Game Of Words Cronus Rank 946 Answers: Cent Her Tern Rent Hen Net The Trench Ten Then
Game Of Words Cronus Rank 947 Answers: Herd Sew Shrew Shred Dew Drew Wed Shrewd Hew Shed Her
Game Of Words Cronus Rank 948 Answers: Teen Nut Lent Nettle Tun Tune Let Tent Tenet Net Lute
Game Of Words Cronus Rank 949 Answers: Sieve Devise Side Eve Dive Die Seed Vied See Vie
Game Of Words Rank 950 Answers: Rift Fur Rut Fury Fry Try Fir Turf Fruity Fruit Fit
Game Of Words Cronus Rank 951 Answers: Mid Mud Music Discus Cud Disc Scum Miss Dim Scud
Game Of Words Cronus Rank 952 Answers: Kin Link Biking Liking Kiln Blink Ilk Glib Ink Bin King Big
Game Of Words Rank 953 Answers: Hailing Nail Ailing Gain Hail Hang Lag Align
Game Of Words Cronus Rank 954 Answers: Glad Snag Slang Gas Sad Sang Sand Slag Glands Land And Sag
Game Of Words Cronus Rank 955 Answers: Deer Edged Err Dredge Greed Erred Edge Reed Red Deed Redder
Game Of Words Cronus Rank 956 Answers: Cry Toy Trio Try Victory Icy City Ivory Rot Ivy Riot
Game Of Words Cronus Rank 957 Answers: Seedy Seed Deep Yes Speed Sped Eye Spy Eyed Speedy Seep
Game Of Words Cronus Rank 958 Answers: Canary Hay Arch Yarn Ranch Char Racy Ray Car Any Anarchy Cry
Game Of Words Cronus Rank 959 Answers: Lure Upper Per Pulp Rue Rule Pup Purple Pure
Game Of Words Rank 960 Answers: Bust Sly Stub Lusty Tub Lust But Buy Subtly Bus Busy
Game Of Words Rank 961 Answers: Willowy Lily Wow Lowly Will Low Wily Owl Oily Willow
Game Of Words Hyperion Rank 962 Answers: Crepe Price Recipe Ripe Piece Creep Epic Rice Pie Peer Pier Pierce
Game Of Words Hyperion Rank 963 Answers: All Kill Ill Lack Lilac Call Alkali Lick Ilk Ail
Game Of Words Hyperion Rank 964 Answers: Inn Din Die Ending Dine Dining Den Ding Dig Nine End
Game Of Words Hyperion Rank 965 Answers: The Net Length They Lent Then Ten Lengthy Yet Get Gently
Game Of Words Rank 966 Answers: Sigh Nigh Swing Swig Wishing Shin Win Wig Wish Wing Sing Sign
Game Of Words Hyperion Rank 967 Answers: Rear Are Rural Equal Ruler Earl Lure Ear Real Rare Rule Era Quarrel
Game Of Words Hyperion Rank 968 Answers: Thick Lick Itch Tick Lit Kilt Itchy Hilt Chit Thickly Kit City
Game Of Words Hyperion Rank 969 Answers: Cup Tuck Chute Pet Hut Kept Cute The Cut Put Peck Ketchup
Game Of Words Hyperion Rank 970 Answers: Applaud Papal Lap Pulp Laud Pup Pad Dual
Game Of Words Hyperion Rank 971 Answers: Name Mane Mix Men Examine Axe Mean Main Mine Man Exam Max
Game Of Words Rank 972 Answers: Volcano Colon Loan Cola Nova Clan Oval Vocal Cool Coal Can
Game Of Words Hyperion Rank 973 Answers: Month Hot Monthly Hotly Holy Moth Hymn Not Lot Only Myth Holt
Game Of Words Hyperion Rank 974 Answers: Cavalry Clay Lay Lacy Arc Racy Car Lava Vary Cry Ray Larva
Game Of Words Hyperion Rank 975 Answers: Lob Bluff Buff Off Buffalo Foul Loaf Boa Offal Foal
Game Of Words Hyperion Rank 976 Answers: Mine Hen Chin Him Hymn Mice Nice Hem Chime Chimney Niche Mince Inch
Game Of Words Hyperion Rank 977 Answers: Steep Steed Step Pest Speed Deepest Sped Steeped Seep Seed Deep Seeped
Game Of Words Hyperion Rank 978 Answers: Nasty Stand Day Sand And Say Sandy Sat Dynasty Sad Stay
Game Of Words Hyperion Rank 979 Answers: Fret Truer Rut Hurt Further Hut True Turf Fur The Her
Game Of Words Phoebe Rank 980 Answers: Seep Peek Poke Sob Sop Keep Spoke Bespoke Seek Pose Beep
Game Of Words Phoebe Rank 981 Answers: The Seethed Tee Shed See Seed Heed Set Steed Sheet These
Game Of Words Phoebe Rank 982 Answers: Avail Vain Villa Lava Anvil Nil Vanilla Lain Naval Nail Vial Van
Game Of Words Phoebe Rank 983 Answers: Benches Seen Been See Sheen Bench Bee Scene Hen Hence She
Game Of Words Phoebe Rank 984 Answers: Fold Old Load Fool Flood Offload Loaf Offal Ado Aloof Food Off Foal
Game Of Words Phoebe Rank 985 Answers: Viaduct Tic Duct Audit Cut Vat Dicta Aid Cud Acid Diva Avid
Game Of Words Phoebe Rank 986 Answers: Riot Visor Visit Visitor Sit Iris Sort Stir Trio Its Rot Sir
Game Of Words Phoebe Rank 987 Answers: Crypt Trip Cryptic City Try Tip Cry Pity Tic Icy Pit
Game Of Words Phoebe Rank 988 Answers: Eyed Eddy Decade Add Dyed Dad Cede Decay Deed Dead Ceded Decayed Eye
Game Of Words Phoebe Rank 989 Answers: Gazelle Gel Glee Glaze Gaze Legal Gale Eagle Allege Leg Zeal Age Gall
Game Of Words Phoebe Rank 990 Answers: Bail Viola Oval Via Oil Alibi Lob Vial Boa Boil Bolivia
Game Of Words Rank 991 Answers: Asp Appease Seep Ease Spa Pea Peep Sap Apes Apse
Game Of Words Phoebe Rank 992 Answers: Top Tidy Pity Pithy Dip Tip Hot Toy Hop Typhoid Pith
Game Of Words Phoebe Rank 993 Answers: Ounce Menu Con Once Cone Come Memo Commune Men Emu Omen
Game Of Words Phoebe Rank 994 Answers: Lit G*y Tail Agility Gaily Gait Laity Tag Gilt Lag
Game Of Words Phoebe Rank 995 Answers: Knuckle Neck Cue Clunk Uncle Clue Luck
Game Of Words Rank 996 Answers: Van Caved Dean Dance Cane Den Acne End Can Cave Vane Advance And
Game Of Words Phoebe Rank 997 Answers: Tin Thin Inhabit Bait Ant Bath Bin Than Ban Hint Hat Habit Bit
Game Of Words Rank 998 Answers: Dung Pug Pig Pun Ping Din Pudding Dig Dug Undid Ding
Game Of Words Phoebe Rank 999 Answers: Hive Ace Vie Via Each Achieve Eve Vice Ice Ache Cave Have Heave
Game Of Words Zeus Rank 1000 Answers: Inn Annuity Tin Any Aunt Nut Unit Tinny Tiny Tuna Unity Ant