Word Riddles Game Answers 1-600 [Magic Word Games]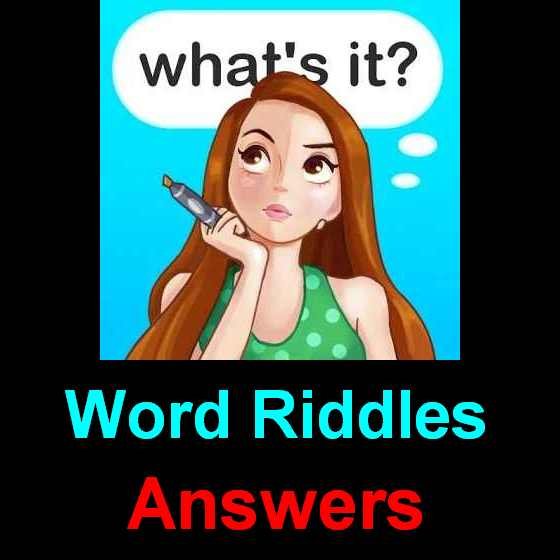 Word Riddles game Answers level 1-600 and cheats to all levels are provided on this page, this game is developed by Magic Word Games and it is available on Google play store. Word Riddles is a great riddle game for kids and adults, also with families and friends. For all riddle game lovers, this game is truly what you deserve. Read the riddle the guess the answer. You have to click the image to find the answer to the required answer.
Note: Remember to visit PuzzleGameMaster.com, Or visit this page when you search the internet 'Word Riddles Answers' to support us.
Word Riddles game level 1-600
Search the table, Enter the level number or Level name in the below box to quickly find the answer to the required level!
| 1-Mary's father has 5 daughters: Nana, Nene, Nini, Nono. What is the 5th daughters name? | MARY |
| --- | --- |
| 2-What can you catch but not throw? | COLD |
| 3-Cloud is my mother. Wind is my father. I come down but never go up. What am I? | RAIN |
| 4-Tear off my skin. I won't cry but you will. What am I? | ONION |
| 5-What color can you eat? | ORANGE |
| 6-What body part is pronounced as one letter, but written with three, only two different letters are used? | EYE |
| 7-You are my brother, but I am not your brother. Who am I? | SISTER |
| 8-I shrink smaller every time I take a bath. What am I? | SOAP |
| 9-I sleep by day, I fly by night. I have no feathers to aid my flight. What am I? | BAT |
| 10-What loses its head in the morning but gets it back at night? | PILLOW |
| 11-I belong to you but others use me more often than you do. What am I? | NAME |
| 12-I am an odd number. Take away one letter and I become even. What number am I? | SEVEN |
| 13-Which word in the dictionary is spelled incorrectly? | INCORRECTLY |
| 14-They come out at night without being called. They are lost in the day without being stolen. What are they | STARS |
| 15-What has a head and a tail, but no body or legs? | COIN |
| 16-Deep, deep, do they go. Spreading out as they go. Never needing any air. They are sometimes as fine as hair. What are they? | ROOTS |
| 17-He has married many women, but has never been married, Who is he? | PRIEST |
| 18-If you have it, you don't share it. If you share it, you don't have it. What is it? | SECRET |
| 19-I have a face and two hands, but I have no arms or legs. Six plus seven is one. What am I? | CLOCK |
| 20-What comes in many different sizes but is always only 1 foot long? | SHOE |
| 21-I can be cracked, made, told, and played. What am I? | JOKE |
| 22-What building has the most stories? | LIBRARY |
| 23-Tuesday, Sam and peter went to a restaurant. After eating lunch, they paid the bill. Sam and Peter did not pay, Who did? | TUESDAY |
| 24-What kind of tree can you carry in your hands? | PALM |
| 25-What kind of room has no doors or windows? | MUSHROOM |
| 26-I'm an animal. I love marching I always wear tuxedo. What am I? | PENGUIN |
| 27-What seven letter word has hundreds of letters in it? | MAILBOX |
| 28-Tear one off and scratch its head. What was red is black instead. What is it? | MATCH |
| 29-I have four fingers and a thumb, but I'm not living. What am I? | GLOVE |
| 30-Take it and you will lose or gain more than all the others. | RISK |
| 31-What word begins and ends with an E, but only has one letter? | ENVELOPE |
| 32-What is full of holes but still holds water? | SPONGE |
| 33-You hold my tail while I fish for you. What am I? | NET |
| 34-If drink, I die. If I eat, I am fine. What am I? | FIRE |
| 35-What can hold a car but can't lift a feather? | GARAGE |
| 36-What invention lets you look right through a wall? | WINDOW |
| 37-The more it dries, the wetter it becomes. What is it? | TOWEL |
| 38-What gets bigger the more you take away from it? | HOLE |
| 39-What is so delicate that saying its name breaks it? | SILENCE |
| 40-In have six faces but not even one body connected see. What am I? | DICE |
| 41-If two is company and three is a crowd, what is four and five? | NINE |
| 42-Who makes it, has no need of it. Who buys it, has no use for it. Who uses it can't see it. What is it? | COFFIN |
| 43-I have a neck but no head. I have a body but no arm. I have a bottom but no leg. What am I? | BOTTLE |
| 44-Poor people have it. Rich people need it. If you eat it you die. What is it? | NOTHING |
| 45-You walk into a room with a rabbit holding a carrot, a pig eating slop, and chimp holding a banana. Who is the smartest animal in the room? | YOU |
| 46-What has to be broken before you can use it? | EGG |
| 47-I am gentle enough to soothe your skin, light enough to fly in the sky, strong enough to crack rocks. What am I? | WATER |
| 48-I have a neck and no head, two arms but no hands. I'm with you to school, I'm with you to work. What am I? | SHIRT |
| 49-What starts with the letter "t" is filled with "t" and ends in "t"? | TEAPOT |
| 50-What side of a cat has the most fur? | OUTSIDE |
| 51-What is easy to get into, but hard to get out of? | TROUBLE |
| 52-What gets broken without being held? | PROMISE |
| 53-I'm tall when I'm young. I'm short when I'm old. I can light up your world. What am I? | CANDLE |
| 54-What do you get when you mix lemons with gun powder? | LEMONADES |
| 55-Mr. Red lives in the red house. Mr. Blue lives in the blue house. Mrs. Oink lives in the pink house. Who lives in the white house | PRESIDENT |
| 56-I have an eye, can't see. I usually have to work with something in my eye. What am I? | NEEDLE |
| 57-What do you call a three humped camel? | PREGNANT |
| 58-I am lighter than air, but a hundred people cannot lift me, Careful, I am fragile. What am I? | BUBBLE |
| 59-You throw me out when you want to use me, but take me in when you don't want to use me. What am I? | ANCHOR |
| 60-What can travel around the world while staying in a corner? | STAMP |
| 61-What goes through towns and over hills and never moves? | ROAD |
| 62-What time of day, when written in a capital letters, is the same forwards, backwards, and upside down? | NOON |
| 63-I am a kind of coat that can only be put on when wet. What am I? | PAINT |
| 64-Soft, hairy, from door to door. I am the pet that always stays on the floor. What am I? | CARPET |
| 65-What is deaf, dumb, and blind, but always tells the truth? | MIRROR |
| 66-I cannot be other than what I am, until the man who made me dies. Power and glory will fall to me, only when he last closes his eyes. Who am I? | PRINCE |
| 67-Two bodies have I, through both joined in one. The more I stand still the faster I run. What am I? | HOURGLASS |
| 68-The last man on Earth received a phone call, who was the caller? | WOMAN |
| 69-I repeat the word you say. The more I repeat, the softer I got. I cannot be seen but can be heard. What am I? | ECHO |
| 70-Everyone has me except for a few. You may not be able to identify me but I can always identify you. What am I? | FINGERPRINT |
| 71-What is harder to catch the faster you run? | ICICLE |
| 72-Never resting, never still. Moving silently from hill to hill. It does not walk, run or trot. All is cool where it is not. What is it? | SUNSHINE |
| 73-I cannot be burned in fire or drowned in water. What am I? | ICE |
| 74-I'm a word that is not even strange. What am I? | ODD |
| 75-What gets sharper the more you use it? | BRAIN |
| 76-What is made of wood, but can't be sawed? | SAWDUST |
| 77-Who is the most foreign visitor you could imagine? | ALIEN |
| 78-I go up and I go down, towards the sky and the ground. I'm present and past tense too, Let's go for a ride, me and you. What am I? | SEESAW |
| 79-What can be heard in court or used to carry briefs? | CASE |
| 80-I touch the Earth, I touch the sky, but if I touch you, you'll likely die. What am I? | LIGHTNING |
| 81-Walk on the living, they don't even mumble. Walk on the dead, they mutter and grumble. What are they? | LEAVES |
| 82-You buy me to eat, but never eat me. What am I? | TABLEWARE |
| 83-Mr. and Mrs. Mustard have five daughters and each daughter has one brother. How many people are there in the Mustard family? | EIGHT |
| 84-Weight in my belly, trees on my back, nails in my ribs, feet I do lack. What am I? | BOAT |
| 85-If you drop a yellow hat in the Red Sea, what does it become? | WET |
| 86-I cover what's real; hide what is true, but sometimes bring out the courage in you. What am I? | MAKEUP |
| 87-Who is your mother's only sister's son's brother's aunt's daughter's sister's father? | FATHER |
| 88-What is an astronaut's favorite key on a keyboard? | SPACE |
| 89-What goes into the water black and comes out red? | LOBSTER |
| 90-What has 88 keys, but can't open a single door? | PIANO |
| 91-WHat always goes to bed with its shoes on? | HORSE |
| 92-You cannot keep me until you have given me. What am I? | WORD |
| 93-What type of house weighs the least? | LIGHTHOUSE |
| 94-What do you call a boomerang that doesn't come back? | STICK |
| 95-I can fly but I have no wings. I can cry but I have no eyes. Wherever I go, darkness follows me. What am I? | CLOUD |
| 96-What jumps when it walks, but sits when it stands? | KANGAROO |
| 97-What is black and white and red all over? | NEWSPAPER |
| 98-Railroad Crossing, look out for the cars. Can you spell that, without any R's? | THAT |
| 99-What type of dress can never be worn? | ADDRESS |
| 100-I start with "e" end with "e". I have whole countries inside me. What am I? | EUROPE |
| 101-A man shaves several times a day, yet he still has a beard. Who is this man? | BARBER |
| 102-It files around all day but never goes anywhere? What is it? | FLAG |
| 103-I know a word of letters three. Add two and fewer there will be. What is the word? | FEW |
| 104-With a halo of water and a tongue of wood, stone as skin long I stood. What am I? | CASTLE |
| 105-You do not want me when you don't have me, but when you have me you don't want to lose me. What am I? | LAWSUIT |
| 106-What goes around the wood but never goes into the wood? | BARK |
| 107-I can make arrows fly. I can make kites soar. What am I? | STRING |
| 108-I am a seed with three letters in my name. Take away the last two and I still sound the same. What am I? | PEA |
| 109-What can you lose that will cause other people to lose theirs too? | TEMPER |
| 110-I have roots nobody sees. I am taller than trees Up, Up I go but I never grow. What am I? | MOUNTAIN |
| 111-What runs around a soccer field, but doesn't move? | FENCE |
| 112-I am always in front of you, but yet I am never here. What am I? | FUTURE |
| 113-What can go up a chimney down but can't go down a chimney up? | UMBRELLA |
| 114-I am heavy forward, but backward I'm not. What am I? | TON |
| 115-If lightning strikes an orchestra, who is most likely to get hit? | CONDUCTOR |
| 116-What is the musical part of a turkey? | DRUMSTICK |
| 117-I'm where yesterday follows today. And tomorrow's in the middle. What am I? | DICTIONARY |
| 118-I have a name written on me, but it isn't my name. Men plant me, but I never grow. They look at me and see their future, rotting in my bloom. What am I? | TOMBSTONE |
| 119-What do people spend a lot of money on it every year, but never want to use it? | INSURANCE |
| 120-I have keys but no locks. I have space but no room. You can enter but can't go outside What am I? | KEYBOARD |
| 121-I walk on 4 legs when I was little, 2 legs when I was strong, and 3 legs when I was old. What am I? | HUMAN |
| 122-I go around in circles, but always straight ahead, never complain, no matter where I am led. What am I? | WHEEL |
| 123-You can see me in water, but I never get wet. What am I? | REFLECTION |
| 124-What goes up and down, but does not move? | STAIRCASE |
| 125-A butcher is 6 feet tall and wears size 12 shoes. What does he weigh? | MEAT |
| 126-I ask no questions, but receive a lot ofs. What am I? | DOORBELL |
| 127-What's orange and sounds like a parrot? | CARROT |
| 128-Where did the baseball keep its lemonade? | PITCHER |
| 129-What's 3/7 chicken, 2/3 cat, and 2/4 goat? | CHICAGO |
| 130-You throw away my outside, you cook my inside. Then you eat my outside and you throw away my inside. What am I? | CORN |
| 131-I am always hungry, I must always be fed. The finger I lick will soon turn red. | FIRE |
| 132-My ring are not worth much but they do tell my age. What am I? | TREE |
| 133-I am an insect. Half of my name is another insect. I am similar to the name of a famous band. What am I? | BEETLE |
| 134-I begin your sentences. What am I? | CAPITAL |
| 135-So simple, that I can only point. Yet I guide men all over the world. What am I? | COMPASS |
| 136-Born of sorrow, grows with age, you need a lot to be a sage. What is it? | WISDOM |
| 137-I have a head but never weeps, I have a bed but never sleep. I Can run but never walks. I have a bank but no money. What am I? | RIVER |
| 138-I am easy to waste. I am unstoppable. What am I? | RIVER |
| 139-Fashions change, but what can a person wear that is never out of style? | SMILE |
| 140-I am a ship that can be made to ride the greatest waves. I am not built by tool, but built by hearts and minds. What am I? | FRIENDSHIP |
| 141-A dragon's tooth in a mortal's hand, I kill, I maim, I divide the land. What am I? | SWORD |
| 142-Six letters it contains. Take away the last and only twelve remains. WHat is the word? | DOZENS |
| 143-Who plays when he works and works when he plays? | ACTOR |
| 144-What goes through a door but never goes in and never comes out? | KEYHOLE |
| 145-Lighter than what I am made of. More of me is hidden than seen. What am I? | ICEBERG |
| 146-Roast, boast, coast, post. What do you put in a toaster? | BREAD |
| 147-I build up castles. I tear down mountains. I make some men blind, but I help others to see. What am I? | SAND |
| 148-I can bring tears to your eyes, resurrect the dead, make you smile, and reverse time. I form in an instant, but I last a lifetime. What am I? | MEMORY |
| 149-The more there is the less you see. What is it? | DARKNESS |
| 150-You have to travel far before you turn it over. What is it? | ODOMETER |
| 151-What has 3 feet but no toes? | YARDSTICK |
| 152-I am alive without breath and cold as death. I am never thirsty but always drinking. What am I? | FISH |
| 153-The more you take, the more you leave behind. What are they? | FOOTSTEPS |
| 154-What is difference between a poorly dressed man on a bike, and a well-dressed man on a unicycle? | ATTIRE |
| 155-What three letters change a boy into a man? | AGE |
| 156-Lovely and round, I shine with pale light, Grown in the darkness, a lady's delight. What am I? | PEARL |
| 157-I am a word. I become longer when the third letter is removed. What am I? | LOUNGER |
| 158-Who keeps the ocean clean? | MERMAID |
| 159-When it comes to me, you go on red and stops on green. What am I? | WATERMELON |
| 160-I'm a kind of cup that doesn't hold water, but makes a lot of noise repeatedly. What am I? | HICCUP |
| 161-What tastes better than it smells? | TONGUE |
| 162-Which word does not belong in the following list: Stop cop mop chop prop shop or crop? | OR |
| 163-What insect does a blacksmith manufacture? | FIREFLY |
| 164-They are many and one, they wave and they drum, used to cover a stare, they go with you everywhere. What are they? | HANDS |
| 165-Which vehicle is spelled the same forwards and backwards? | RACECAR |
| 166-I pass before the sun, yet make no shadow. I'm all around you, but you cannot see me. What am I? | WIND |
| 167-Once you know it exists, it no longer exists. What is it? | SURPRISE |
| 168-It's colorful. No one can reach it, not even the queen. What is it? | RAINBOW |
| 169-Goes over all the hills and hollows, Bites hard, but never swallows. What is it? | FROST |
| 170-It's in your hand though you can not feel it. Only you and time can reveal it. What is it? | FATE |
| 171-What is black when you buy it, red when you use it, and gray when you throw away? | CHARCOAL |
| 172-Where do fish keep their money? | RIVERBANK |
| 173-I can be written, I can be spoken, I can be exposed, I can be broken. What am I? | NEWS |
| 174-I am not alive but I can die. What am I? | BATTERY |
| 175-A caribbean shape that makes ships disappear. What's it? | TRIANGLE |
| 176-You shoot me but I don't die, You hang me but I don't die What am I? | PICTURE |
| 177-What is the saddest fruit? | BLUEBERRY |
| 178-Man walks over, man walks under, in times of war he burns asunder. What is it? | BRIDGE |
| 179-What do you call a sleeping bull? | BULLDOZER |
| 180-It rows quickly with four oars but never comes out from under its,own roof. What is it? | TURTLE |
| 181-I hide but my head is outside What am I? | NAIL |
| 182-You bury me when I'm alive and dig me up when I'm dead. What am I? | PLANT |
| 183-I am round. I have only one line. Circle is not my name ineed. What am I? | OVAL |
| 184-What is always coming but never arrives? | TOMORROW |
| 185-My seas have no water, my mountains have no rock, and my land has no grass. What am I? | MAP |
| 186-Some try to hide, some try to cheat, but time will show we always will meet. What is it? | DEATH |
| 187-Never alhead, ever behind, yet flying swiftly past, for a child, I last forever, for adults, I'm gone too fast. What am I? | YOUTH |
| 188-The last woman on Earth received a phone call. Who was the caller? | MAN |
| 189-What has no beginning, end, or middle? | DONUT |
| 190-As a stone inside a tree, I'll help your words outlive thee. But if you push me as I stand, the more I move the less I am. What am I? | PENCIL |
| 191-When you take away the whole from me, there is always some left. What am I? | WHOLESOME |
| 192-I saw the dead bring forth the living. I saw the living bring forth the dead. What did I see? | FUNERAL |
| 193-What gets whiter the dirtier it gets? | CHALKBOARD |
| 194-There was a girl half my age when I was 12, now I am 66, how old is she? | SIXTY |
| 195-Tool of thief, toy of queen. Always used to be unseen. Sign of joy, sign of sorrow. Giving all likeness borrowed. What is it? | MASK |
| 196-In a tunnel of darkness lies a beast or iron. It can only attack when pulled back. What is it? | BULLET |
| 197-What kind of table can you eat? | VEGETABLE |
| 198-You can drop me from the tallest building and I'll be fine, but if you drop me in water. I die What am I? | PAPER |
| 199-EVeryone has me, but nobody can lose me. What am I? | SHADOW |
| 200-What word has kst in the middle, in the beginning, and at the end? | INKSTAND |
| 201-I have an eye but cannot see. I am fast but I have no limbs. What am I? | HURRICANE OR TORNADO |
| 202-What dress does everyone have, but no one wears? | AN ADDRESS |
| 203-You can always find me in the past. I am created in the present, but the future can not change me. What am I? | HISTORY |
| 204-What word becomes shorter when you add two letters to it? | SHORT |
| 205-I make billions of dollars selling windows. Who am I? | MICROSOFT |
| 206-Fatherless and Motherless, born without sin. Roared when it entered the world, And never spoke again. What's it? | THUNDER |
| 207-Kids love this bouncy, sugary, treat. It's like colorful rubber that you can eat. | JELLO |
| 208-I'm a type of pizza that is folded in half before cooking to contain a filling, who am I? | CALZONE |
| 209-A defendant will go free if a reasonable amount of this exists. | DOUBT |
| 210-John's mom had three children. The first child was April. The second child was May. What was the third Child's name? | JOHN |
| 211-What type of cheese is made backwards? | EDAM |
| 212-A weighty currency. | POUND |
| 213-What bird is always unhappy? | BLUEBIRD |
| 214-When young, I am sweet in the sun. When middle–aged, I make you gay. When old, I am valued more than ever. | WINE |
| 215-Who always enjoys poor health? | DOCTOR |
| 216-This both describes gorgeous woman and an excellent punch. | KNOCKOUT |
| 217-I am something all men have but all men deny. Man created me but no man can hold me. What am I? | FEAR |
| 218-What dentists battle on a daily basis? | CAVITIES |
| 219-What lives where it cannot breathe and has a hole in its back? | WHALE |
| 220-I have 4 legs but never run. What am I? | A CHAIR |
| 221-A salutation from the islands. | ALOHA |
| 222-It speaks without a tongue, and listens without ears. | ECHO |
| 223-Without this, H2O would just be 20. | HYDROGEN |
| 224-What types of words are these: madam, civic, eye, level? | PALINDROMES |
| 225-I tell people to be careful when handling boxes. What am I? | FRAGILE |
| 226-For this gourmet style of meal you'll need a pot and some pointy sticks. | FONDUE |
| 227-A mighty weapon in the war against winged household pests. | FLYSWATTER |
| 228-If you are a sore loser, you are often called the sour variety of this fruit. | GRAPE |
| 229-Tomorrow's yesterday. Yesterday's tomorrow. What is it? | TODAY |
| 230-I tap and I spin, I wiggle and I twist, and my movements are dictated by external sounds. Who am I? | A DANCER |
| 231-What is Mrs. Wright's first name? | ALWAYS |
| 232-What is the end of everything? | G |
| 233-I am wingless but airborne, and when I meet your gaze tears will fall from your eyes. What am I? | SMOKE |
| 234-I won't break if you throw me off from the highest building but I will break if you place me in the ocean. What am I? | TISSUE |
| 235-What can an elephant and a shrimp both be? | JUMBO |
| 236-My first is high, My second damp, My whole a tie, A writer's cramp, who am I? | HYPHEN |
| 237-Edible beach crawler served at seafood restaurants, similar to a lobster, but quite different. | CRAB |
| 238-A tower at the root of all confusion. | BABEL |
| 239-When someone uses this acronym, you know you've got to pick up the pace. | ASAP |
| 240-Which is the oldest tree? | ELDER |
| 241-What do angels sing in the shower? | SOUL |
| 242-I am a fruit seeds on the outside. What am I? | STRAWBERRY |
| 243-Held firmly in the hands, like a sword it cuts deep. Bloodless strokes, all, then forward we leap. | PADDLE |
| 244-Even if you throw it away, it still comes back. | BOOMERANG |
| 245-Both peaches and a certain couture have this in common. | JUICY |
| 246-This toasted sandwich is made with bacon, lettuce and tomato. | BLT |
| 247-What kinds of men are always above board? | CHESSMEN |
| 248-What kind of dog chases anything red? | BULL DOG |
| 249-The main difference between us and zombies. | LIFE |
| 250-These are believed to be found at the end of rainbows. | POTS |
| 251-This heavy and ancient suit was not worn with a tie, but was always worn in battle. | ARMOR |
| 252-Hold these between your knees if you want to set a Cuban beat. | BONGOS |
| 253-It covers you, you lose it every day and you'd die without it. | SKIN |
| 254-A device for finding furniture in the dark. | SHIN |
| 255-A house has 4 walls. All of the walls are facing south, and a bear is circling the house. What color is the bear? | WHITE |
| 256-Where do cows go to dance? | MEATBALL |
| 257-I have a tall. I can fly. I'm covered in colorful feathers. I can whistle and I can talk. Who am I? | PARROT |
| 258-What can be seen but never found that only hides in the unwound? | RELAXATION |
| 259-Through its wounds, water does run. It once held many but now has none. What is it? | SHIPWRECK |
| 260-What is an aliens favourite sport? | SPACEBALL |
| 261-hey are producers of pies and burgers and are great for tipping. | COWS |
| 262-A single seater best accompanied by circus music and great balance. | UNICYCLE |
| 263-A circle of stones, never in rows. Stacked one on the other, mystery it sows. What is it? | STONEHENGE |
| 264-What follows a dog wherever it goes? | TAIL |
| 265-I start with S and end with IT, and have you in the middle. What am I? | SUIT |
| 266-What social media website is a favorite among teens who don't like to share their bedrooms? | MYSPACE |
| 267-It carries paper of the most important sort but also plastic, I'm glad to report. What is it? | WALLET |
| 268-The more holes you cover the lower it goes. | RECORDER |
| 269-I am what remains when nothing is left. What am I? | RIGHT |
| 270-What nut has a hole and is squishy? | DOUGHNUT |
| 271-What calls for help, when written in capital letters, is the same forwards, backwards and upside down? | SOS |
| 272-My treasures are golden and guarded by thousands amongst a maze no man can enter.What am I? | BEEHIVE |
| 273-These make grown men dance in end zones. | TOUCHDOWN |
| 274-What animal would you get crossed a duck a beaver, and an otter? | PLATYPUS |
| 275-I flow from the mouth of Homer when he sees doughnuts. What am I? | DROOL |
| 276-Born from a fountain of wealth, I am black instead of gold but valued the same. What am I? | OIL |
| 277-This Cajun dish of rice with shrimp, chicken, and vegetables, is often enjoyed with cornbread. | JAMBALAYA |
| 278-I am so delicious that I require a house to contain me. What am I? | PANCAKES |
| 279-What occurs once in a minute, twice in a moment and never in one thousand years? | M |
| 280-What has feet on the inside but not on the outside? | SHOES |
| 281-I run up and down the stairs without moving. What am I? | RUG |
| 282-What's at the head of an elephant and at the tail of a squirrel? | EL |
| 283-I am edible, pink, and a great summer food. What am I? | PEACH |
| 284-What word in the dictionary is weird? | WEIRD |
| 285-I have strong affection for belly buttons. What am I? | LINT |
| 286-What peels like an onion but still remains whole? | LIZARD |
| 287-You can only have it once you have given it. | RESPECT |
| 288-If you can spot one of these eastern warriors, it means they're not doing their job right. | NINJA |
| 289-What is Mummy's favorite type of music? | WRAP |
| 290-The fans of the pied piper's smooth sound who are feared by elephants. | MICE |
| 291-A doctor might remove one from the neck of a Dracula victim. | FANG |
| 292-What instrument can make any sound and be heard but not touched or seen? | VOICE |
| 293-I am nothing but holes tied to holes, yet am strong as iron. | CHAIN |
| 294-Long legs, crooked thighs, little head, and no eyes. | TONGS |
| 295-You Could do this to a motion, see it on a watch or place this in a race. | SECOND |
| 296-What can provide food before it is alive, while it is alive and after it's dead? | CHICKEN |
| 297-Soldiers fight it but never changes. | WAR |
| 298-I have eight corners yet my shadow often takes the shape of a hexagon. What am I? | CUBE |
| 299-What do you call a group of butchers? | MEATING |
| 300-You roll it or you buy it, People say you shouldn't try it Because you many get a stroke, From inhaling all that smoke. | CIGARETTE |
| 301-Often wandering the streets this group of people cannot afford to be choosers. | BEGGARS |
| 302-If breathes fire in fairy–tales, what's it? | DRAGON |
| 303-Mr. Smith has 4 daughters. Each of his daughters has a brother. How many children does Mr. Smith have? | FIVE |
| 304-Men in skirts blow into these. | BAGPIPES |
| 305-Don't do this in the shallow end. | DIVE |
| 306-Securing your documents is easy with these trusty metal objects. | STAPLES |
| 307-With hands that can't hold and eyes that can't see, She's cherished by some but has no real family. Who is she? | DOLL |
| 308-Tough blind as well can lead the blind well. | CANE |
| 309-My first half means container. Not a lot of people understand my language. What am I? | BINARY |
| 310-An art–form and a web–browser. | OPERA |
| 311-It flies when it's on and floats coming off. | FEATHER |
| 312-This on this. That on that. Growing tall, But never fat. What am I? | STACK |
| 313-What do you call a fish without an eye? | FSH |
| 314-What is an acceptable act of violence during saint Patrick's day? | PINCH |
| 315-A tasty given to well behaved dogs and kids. | TREAT |
| 316-What has a spot and is very bright, is sometimes, red, white, blue, yellow lor green and is often blinding. | SPOTLIGHT |
| 317-What word of five letters has only one left when two letters are removed? | STONE |
| 318-A reaction to being spooked that takes its name from waterfowl. | GOOSEBUMPS |
| 319-I support you in your darkest times, but you choose to leave me everyday. What am I? | BED |
| 320-Special abilities and brightly colored underwear are all you need to be one of these. | SUPERHERO |
| 321-This could make wooden boys noses grow. | FIB |
| 322-Watches students at the prom to make sure there's no funny business. | CHAPERONE |
| 323-Gown but not a king. | ROOSTER |
| 324-I can be found in seconds, minutes and centuries, but not in days, years or decades. | N |
| 325-Black within and red without with four corners roundabout. What am I? | CHIMNEY |
| 326-Being able to interpret the letters on this screen proves that you have this quality. | LITERATE |
| 327-The thinkers usually hold this body part. | CHIN |
| 328-You need a key to receive an from me. The you'll find is straight from your mind. What is it? | CODE |
| 329-There's one in every deck of cards and in a famous movie. | JOKER |
| 330-Looks like a hippo crossed with a unicorn. | RHINO |
| 331-When the horse strokes the cat, the wood begins to sing. | VIOLIN |
| 332-This for is a baked dish of fruit, or meat and vegetables, typically with a top and base of pastry. | PIE |
| 333-I'm a pie, but I come with pepperoni and cheese. | PIZZA |
| 334-You are owed of these when someone wrongs you. | APOLOGY |
| 335-We applaud if you perform well. What am I? | AUDIENCE |
| 336-I am the yellow hem of the seas blue skirt. | BEACH |
| 337-In birth I spring forth, life I undford. In death I wilt and die, but rebirth restores all. | LEAF |
| 338-Maritime marauders. | PIRATE |
| 339-Hoofed frolicking. | HORSEPLAY |
| 340-When life gives you these, make a refreshing beverage. | LEMON |
| 341-Could be described as the craniums version of snow. | DANDRUFF |
| 342-I climb higher when hot, But beware my rage, I'll kill with a breath, If I can escape my cage. | MERCURY |
| 343-I am someone you don't know Who am I? | STRANGER |
| 344-What animal keeps the best time? | WATCHDOG |
| 345-Its fleece is warm and wooly white. And when you lie awake night, count it and you'll fall asleep. What is it? | SHEEP |
| 346-What comes in many varieties and can't be seen or touched, but it often makes you move? | MUSIC |
| 347-I am shared by goats, devils, and unicorns. What am I? | HORN |
| 348-They are Dark, and always on the run. without the sun, would be none! | SHADOWS |
| 349-During the day, I follow one, during the night, I follow none. What am I? | SUNFLOWER |
| 350-John Lennon sang about being this toothy creature. | WALRUS |
| 351-A tiny bead, like fragile glass,strung along a cord of grass. | DEW |
| 352-It is the time in your life when you simultaneously know everything and nothing at an instance. | TEENAGERS |
| 353-Cute hares that hop and deliver eggs at Easter are called by this nickname. | BUNNY |
| 354-I'm a lion with a human head. Guess my Riddle or you'll be dead. | SPHINX |
| 355-What key is the hardest to turn? | DONKEY |
| 356-It is a place of play on a sunny day. Winter will come and take all the fun, but we'll be back in May. What is it? | PARK |
| 357-When it comes in, From sea to shore, Twenty paces you'll see, No less, no more. | FOG |
| 358-I am longer than a decade and shorter than a millennium. What am i? | CENTURY |
| 359-It is the greatest nemesis of the lactose intolerant | DAIRY |
| 360-When I type I tap these on the keys | FINGERTIPS |
| 361-I am green and ugly and come out at night with a crumple old broom. Who am i? | WITCH |
| 362-A toasty and crunchy cereal would be pointless without this spice | CINNAMON |
| 363-Before crust hardens. | DOUGH |
| 364-Taken from a mine and then locked up in a wooden case. Never released but used by students everyday. What am I? | LEAD |
| 365-What goes further the slower it goes? | MONEY |
| 366-They come in many varieties: Red, Black, Dead, and Caspian to name a few. | SEA |
| 367-What becomes too young the longer it exists? | PORTRAIT |
| 368-A close relative of ketchup that people often spread on their dog. | MUSTARD |
| 369-What kind of cup doesn't hold water? | CUPCAKE |
| 370-What is lengthened by being cut at both ends? | DITCH |
| 371-What can honk without a horn? | GOOSE |
| 372-There is someone, and there is always another, for without the other, there wouldn't be one. | TWINS |
| 373-What has a throne, but has no king? | BATHROOM |
| 374-Not a comb or a brush but makes the hair feel plush. What is it? | SHAMPOO |
| 375-What type of paper can you neither read nor write on? | SANDPAPER |
| 376-While I'm a challenge for one and a rebuke between two, Yet I still have a direction for every number. What am I? | CROSSWORDS |
| 377-One where none should be, or maybe where two should be, seeking out purity, in the kings trees. What am I? | UNICORN |
| 378-What month do all soldiers hate? | MARCH |
| 379-Thousands of these come together to make a digital image. What is it? | PIXEL |
| 380-It can cause deflation of tires when dropped from the rear of spy cars. | SPIKES |
| 381-I get paid to shoot people, then blow them up. What am I? | PHOTOGRAPHER |
| 382-Has feathers but can't fly. Rests on legs but can't walk. | MATTRESS |
| 383-What is something that can go up quite easily, but is not as easy to bring back down? | WEIGHT |
| 384-What can you put in a wood box that will make it lighter? | HOLES |
| 385-What takes hours to pull off is most satisfying when it's done and requires consent from the person you're doing it to? | HYPNOTISM |
| 386-It can be done to buttons and shopping carts. What is it? | PUSH |
| 387-Two birds, trying to balance in one twig. | EARRINGS |
| 388-When a doctor hits you with a hammer he is testing this. | REFLEX |
| 389-According to the music industry, you can count on a midnight train and the devil to turn up here. | GEORGIA |
| 390-These are needed to finish a test. | ANSWERS |
| 391-How do you tell a boy snowman apart from a girl snowman? | SNOWBALLS |
| 392-I stink up your breath and fights evil vampires. What am I? | GARLIC |
| 393-Something you do with guests at a fancy party hoping to get a leg–up in your career. | SCHMOOZE |
| 394-Possibly the only famous plumber who has the courage to ever to rescue a princess. | MARIO |
| 395-I am at your hand when it is dark and hidden away in the light. What am I? | FLASHLIGHT |
| 396-I am one of many, You forget I'm here, but I'm just below. Without me, you'd surely topple, Go ahead, what am I? | TOES |
| 397-I can be found on a present, the front of a boat, or after the rain. What am I? | BOW |
| 398-I fly through the air on small feathered wings, seeking out life and destroying all things. | ARROW |
| 399-If a dog were filling out a resume, he might list his mastery of this game under "skills". | FETCH |
| 400-My first is an insect; my second is a border; my whole puts the face in a tuneful disorder. | ANTHEM |
| 401-A seasonal fashion statement named for the weather It's worn in. | SUNDRESS |
| 402-Chicken noodle and cream of mushroom are two well known varieties of this kind of food. | SOUP |
| 403-I live to beauty trying to catch your eye. Grab me without looking, and you're surely to cry. What am I? | THORN |
| 404-This food, made from pork, is often eaten alongside eggs and bacon. | SAUSAGE |
| 405-Not a priest not a king but wears different kinds of clothes. | CLOTHESLINE |
| 406-Who eats a lot of iron without getting sick? | RUST |
| 407-My second is performed by my first and it is thought a thief by the marks of my whole might be caught. | FOOTSTEP |
| 408-What you do to determine the length of something. | MEASURE |
| 409-Which friend of a witch eats the fastest? | GOBLIN |
| 410-This is your stomach's way of letting you know you've neglected it. | GRUMBLE |
| 411-What can be measured but has no length width or height? | TEMPERATURE |
| 412-What's white, gooey, sticky, and better to spit than swallow? | TOOTHPASTE |
| 413-Who won the skeleton fitness contest? | NOBODY |
| 414-My first is nothing but a name; my second is more small; my whole is of so little fame it has no name at all. | NAMELESS |
| 415-in the forest, this blends in just right, but every December it is covered with lights. What is it? | EVERGREEN |
| 416-A man says: "Brothers and sisters, have I none, but that man's father is my father's son. Who is the pointing at? | SON |
| 417-A certain wizard resided in a city made from this gemstone. | EMERALD |
| 418-How do snails travel? | SLOWLY |
| 419-Four leaves I have. What am I? | SHAMROCK |
| 420-What has a brown coat, a long tail, and lives in house or shed but most active while you're in bed? | MOUSE |
| 421-Where Do Sailors Take Their Baths? | TUBMARINE |
| 422-It Has 8 Arms And Lots Of Ink But Can't Write A Word. | OCTOPUS |
| 423-If It Weren't For These, No One Would Be Aware Of Idaho's Existence. | POTATO |
| 424-Take Away My First Letter, Take Away My Second Letter, Take Away All My Letters And I Would Remain The Same. What Am I? | POSTMAN |
| 425-Big As A Biscuit, Deep As A Cup, But Even A River Can't Fill It Up. What Is It? | STRAINER |
| 426-The Celebrities Of High School Were Part Of This Crowd. | POPULAR |
| 427-A King Without A Crown | LION |
| 428-Delicious But Said To Be A Lie. | CAKE |
| 429-What Does A Man Have In His Trousers That A Lady Doesn't Want In Her Face? | WRINKLES |
| 430-I Am Owned By Old Mcdonald. What Am I? | FARM |
| 431-As Soft As Silk, As White As Milk, As Bitter As Gall, A Thick Green Wall, And A Green Coat Covers Me All. | WALNUT |
| 432-Though Learning Has Fed Me, I Know Not A Letter; I Live Among The Books, Yet Am Never The Better. What Am I? | BOOKWORM |
| 433-U Always Follow Me But I Am Rarely Seen. What Am I? | Q |
| 434-It Is By Nature, Soft As Silk; A Puffy Cloud, White As Milk; Snow Tops This Tropical Crop; The Dirtiest Part Of A Mop | COTTON |
| 435-Whats Large On Saturday And Sunday. Small On Tuesday, Wednesday, And Thursday, And Disappears On Monday And Friday? | S |
| 436-What Do You Call Two Witches Who Live Together? | BROOMMATES |
| 437-Found In Pizza But Also The Sky. You'll Know I'm Around When I'm Close By. What Am I? | CIRCLE |
| 438-What Has No Hands But Might Knock On Your Door, And If It Does You Better Open Up? | OPPORTUNITY |
| 439-What Is The Center Of Gravity? | V |
| 440-A Great Mysterious Place That The Bold Have Been Known To Journey Into. | UNKNOWN |
| 441-Most People Need It, Some Ask For It, Some Give It, But Almost Nobody Takes It. What Is It? | ADVICE |
| 442-The Distance From The Top Of Your Head To The Floor Standing Up Straight. | HEIGHT |
| 443-I Am Like Thunder In Your Cranium. What Am I? | HEADACHE |
| 444-Talks Like This, A Green Wise Man Does. Guess My Clue, You Will. | YODA |
| 445-I Am Rubber You Can Eat! What Am I? | JELLY |
| 446-What Is All Over A House? | ROOF |
| 447-One More Than A Duet. | TRIO |
| 448-What Falls But Never Breaks? | NIGHT |
| 449-What's Brown And Sounds Like A Bell? | DUNG |
| 450-I Make Up All Literature, But I'm Often Sealed. What Am I? | LETTERS |
| 451-They Can Be Long Or Short; They Can Be Grown Or Bought; They Can Be Painted Or Left Bare; They Can Be Round Or Square. | NAILS |
| 452-What Does Someone Else Have To Take Before You Can Get? | PHOTOGRAPH |
| 453-What Did Adam And Eve Lack That Everyone Else Has? | PARENTS |
| 454-I Will Go Within You, And Destroy You. Only Because You Wanted Me Too. What Am I? | DRUGS |
| 455-Which Word Contains 26 Letters But Only Three Syllables? | ALPHABET |
| 456-I Am Used When You Jump Off A Bridge For Fun. What Am I? | BUNGEE |
| 457-Skirts For Men. What Am I? | KILT |
| 458-What Is Not A Ball But Yet A Sphere, And Holds All Lands And People Year After Year? | EARTH |
| 459-Women Don't Have And Don't Want It. Men Get It But Sometimes They Try To Get Rid Of It. What Is It? | BEARD |
| 460-The Time Between Daylight And Darkness When Blood Drinkers Like To Come Out. What Am I? | TWILIGHT |
| 461-What Are You Certain To Find Inside Your Pocket When You Reach Into It? | HAND |
| 462-This Chocolate Baked Good Is A Soft Candy Made From Sugar, Butter, And Milk Or Cream. | FUDGE |
| 463-I Have A Hundred Legs, But Cannot Stand. I Have A Long Neck, But No Head. I Cannot See, And I Help Keep Your House Neat And Tidy. What Am I? | BROOM |
| 464-A Stylish Winter Top That Covers Your Larynx. | TURTLENECK |
| 465-Without Me You Will Surely Die. Too Much Of Me And Like A Pig You May Lie. What Am I? | FOOD |
| 466-You'll See Savory Dishes In Hong Kong Sizzling In These. | WOK |
| 467-What Is A Cheerleaders Favorite Color? | YELLER |
| 468-It Is An Arctic Double Breasted Formal Wear | ANSWER:SNOWSUIT |
| 469-Give It A Toss, And It's Ready, But Not Until It's Dressed. What Is It? | SALAD |
| 470-You Can Break It Or Drink Water From It. | GLASS |
| 471-What Has Been Around For Millions Of Years But Is Never More Than A Month Old? | THE MOON |
| 472-Sharp And Long, Flag Of The World. What Is It? | TOWER |
| 473-Inside A Burning House, This Thing Is Best To Make. And Best To Make It Quickly, Before The Fire's Too Much To Take. | HASTE |
| 474-Sends Paper Without Using The Post Office. | FAX |
| 475-The One Fashion Accessory Farmers And Hipsters Can Agree Upon. | SUSPENDERS |
| 476-What Is Given But Kept By The Giver? | BIRTH |
| 477-What Is Put On A Table, Cut, But Never Eaten? | CARDS |
| 478-Never Ahead, Ever Behind, Yet Flying Swiftly Past; For A Child I Last Forever, For Adults I'm Gone Too Fast. | CHILDHOOD |
| 479-According To The Ads, This Is The Favorite Beverage Of Friendly Polar Bears. | COKE |
| 480-Kids Hunt For Them And Adults Make Sure They Are Not All In One Basket. | EGGS |
| 481-One Of The Few Times It's Encouraged To Lock Lips With A Stranger. | CPR |
| 482-What Is The Middle Of Water But Is Not An Island? | T |
| 483-A Squiggly Line Tells You When You've Done It Wrong | SPELL |
| 484-This Is Meat From The Upper Part Of A Pig's Leg Salted And Dried Or Smoked, Often Enjoyed In A Sandwich. | HAM |
| 485-You Hear It Speak, For It Has A Hard Tongue. But It Cannot Breathe, For It Has Not A Lung. What Is It? | BELL |
| 486-Although It Sounds Like I Work On A Transportation Device, I Actually Work In A Restaurant. What Am I? | BUSBOY |
| 487-A Standard Dimension For Sandwiches And Rulers | FOOTLONG |
| 488-Most People Love To Use Me. You Make Me Glide Through The Air. Even Your Dog Loves Me. What Am I? | FRISBEE |
| 489-What Type Of Shoes Do Spies Wear? | SNEAKERS |
| 490-A Blind Superhero And Evel Knievel's Profession. | DAREDEVIL |
| 491-This Is Variety Of Pasta Formed In Narrow Tubes, Often Mixed With Cheese Powder | MACARONI |
| 492-Aliens In Toy Story Call This Their Leader? | CLAW |
| 493-There Are Four Of These, But Everyone's Favorite Seems To Be Spades. | ACE |
| 494-You Use Me Daily Without Knowing. The Only Time You Acknowledge Me Is When You Don't Understand Me. What Am I? | LANGUAGE |
| 495-What Can Be Played With No Rules And No Winners Or Losers? | INSTRUMENTS |
| 496-I'm The Manly Mark That Milk Makes. What Am I? | MUSTACHE |
| 497-I Have Branches, Sometimes A Few And Other Times Hundreds Or More, But I Have No Fruit, Trunk Or Leaves. What Am I? | A BANK |
| 498-I Am A Good State, There Can Be No Doubt Of It; But Those Who Are In, Entirely Are Out Of It. | SANE |
| 499-It Is The Transportation Of Choice For Princesses To Attend Balls. | CARRIAGE |
| 500-Meat That Has Been Cured By Being Cut Into Long, Thin Strips And Dried | JERKY |
| 501-2 People In Front Of 2 People. 2 People Behind 2 People, And 2 People Beside 2 People. How Many People Are There? | FOUR |
| 502-I Run, Yet I Have No Legs. What Am I? | NOSE |
| 503-Tickle With Your Fingers And A Song It Will Sing. Be Careful, Though, You May Break A String. What Is It? | GUITAR |
| 504-It Can Be In A Hat, Or Out Of The Bag. If You See It You'll Be Smitten, 'Cause It's Fluffy Like A Mitten. | CAT |
| 505-I Am Used In Most Sports, Have Four Holes, Come In Many Different Colors And There Is A State That Shares My Name. | A JERSEY |
| 506-I'm Colourful, You Can Have Thick Strips Of Me, And People Often Lose Some Of Me. What Am I? | CRAYONS |
| 507-Sophie's Mother Had 2 Sons And 1 Daughter. The Sons Names Were George And John. What Was The Daughter's Name? | SOPHIE |
| 508-A Pony Trots His Way Through The World On These. | HOOF |
| 509-What Does A Cow Have Four Of That A Woman Only Has Two Of? | LEGS |
| 510-A Container Holding Water But Not A Cup. If You Want To Find Me, Look Up. What Am I? | COCONUT |
| 511-You May Always Chase Me But You Are Always About 3 Miles Away. What Am I? | HORIZON |
| 512-Plow And Hoe, Reap And Sow, What Soon Does Every Farmer Grow? | WEARY |
| 513-You May Have Many Of Me But Never Enough. After The Last One Arrives You Will Have No More. What Am I? | BIRTHDAY |
| 514-What Does A Stone Become When In The Water? | WHETSTONE |
| 515-You Can Throw Me Away, But I Will Always Be Coming Back. What Am I? | BOOMERANG |
| 516-A Job That Involves Sitting In A Highchair, Wearing A Black Gown And Smacking Things With A Mallet | JUDGE |
| 517-I Am A Shower That Lights Up The Sky. What Am I? | METEOR |
| 518-A King Wears One On His Head. | CROWN |
| 519-I Am Often Sold By Children Entrepreneurs In Summer Time. What Am I? | LEMONADE |
| 520-I Have A Leg But I Do Not Move, A Face But No Expression, Be It Wind Or Rain I Stay Outside. What Am I? | SCARECROW |
| 521-What Do You Called A Sad Coffee? | A DEPRESSO |
| 522-Your Mother's Brother's Only Brother­-In­-Law Is Asleep On Your Couch. Who Is Asleep On Your Couch? | DAD |
| 523-What Does A Fish Say When It Runs Into A Concrete Wall? | DAM |
| 524-I Can Invent Dreams Or Open The Skies. It's Easy To Use Me, Just Close Your Eyes. What Am I? | IMAGINATION |
| 525-They Are Two Brothers. However Much They Run, They Do Not Reach Each Other. | WHEELS |
| 526-It Is Probably The Most Laid­-Back Member Of The Animal Kingdom. | SLOTH |
| 527-I'm A Green Veggie That Looks Like A Tiny Tree. | BROCCOLI |
| 528-A Stellar Five-­Limbed Sea Creature. | STARFISH |
| 529-A Prehistoric Reptile That Lives Today And The Inspiration For The Name Of A Popular Sports Drink. | GATOR |
| 530-The Leaves Are On The Fruit, The Fruit Is On The Leaves. What Is It? | PINEAPPLE |
| 531-I go up and I go down, sometimes I am curvy and sometimes I am straight. What am I? | STAIRS |
| 532-Ladies used to party with this kitchen device | TUPPERWARE |
| 533-If you have three, you have three. If you have two, you have two. But if you have one, you have none. What am I? | CHOICES |
| 534-What you become during a workout? | SWEATY |
| 535-I fall with the waves, rise with the tide, and drift with the current alongside. What am I? | PLANKTON |
| 536-Beautiful girls strut and sexy men 'do their little turn' on this. | CATWALK |
| 537-This patch of land stands alone | ISLAND |
| 538-It may only be given, Not taken or bought, What the sinner desires, But the saint does not. | FORGIVENESS |
| 539-A canvas full of stars. | SKY |
| 540-Cycle Cycle Cycle. | TRICYCLE |
| 541-How much dirt is in a hole 4 feet deep and 2 feet wide? | NONE |
| 542-Always a part. Never a whole. If only half grows I shrink. What am I? | A FRACTION |
| 543-You can see me up north bundled up, I live inside a white house, and my diet is mainly Paleo. Who am I? | ESKIMO |
| 544-You can hold me, fill me, but you can't pour me. I am needed to live but can be broken. What am I? | A HEART |
| 545-The signature stroll of ducks and penguins. | WADDLE |
| 546-The lunch destination of choice for teenagers and hospital employees. | CAFETERIA |
| 547-If you agree give me one of these. | AMEN |
| 548-I have many ears, this may be true But no matter how you shout, I'll never hear you. What am I? | CORNFIELD |
| 549-What do you call a snowman in the summer? | PUDDLE |
| 550-It is something you will never see again. | YESTERDAY |
Thank You for visiting this page, If you need more levels answers of Word Riddles or any of the answers are wrong then please comment, Our team will update as soon as possible.