Puzzle me level 45 answer How many line segments are in the graph at most
Puzzle me level 45 detailed image hints are provided here, Here you will find a guide for how to solve puzzleme level 45 with detailed explanation with image and video if required. There are many tricky puzzles to test and challenge your brain in this game. Activate your thinking, and any operation may be the key that unlocks the puzzle, The most obvious answer is always the last choice you have to think very cleverly to solve the level. Scroll down to find the detailed answer.
Click here to find Puzzle me all Answers (All Levels)
Puzzle Me Level 45 Answer
The answer is 6, 3 of length 1, 2 of length 2 and 1 of length 3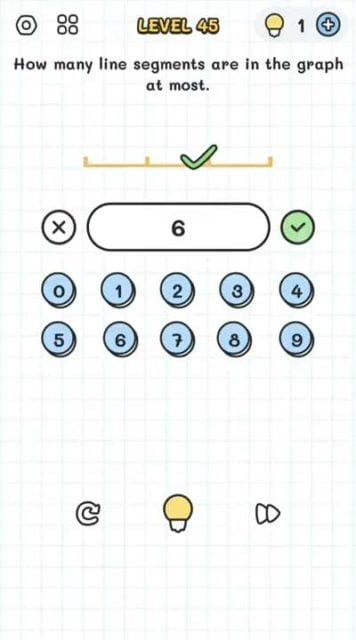 Note: If this is not the level you are looking, or to find the next level, Click Puzzle me all Answers to search and find the required level. Keep visiting PuzzleGameMaster.com to support us.
All Puzzle Me levels:
Thanks for visiting, If puzzle me level 45 have any problems then please comment. I will correct them as soon as possible.