Hidden Secrets free 2 puzzle 9 Solution
Hidden Secret 2 Puzzle/Enigma 9, full puzzle breakdown, hints, and solution to this puzzle game. Here I have solved this level carefully with all hints and screenshots. Scroll to find answer. Game is available for Android devices.
This is another game by digital secrets after Hidden Secrets. This puzzle game is really Hard!! This is a progressively hard Android puzzle game which requires progressive skills that need to learn along the way. In this game, you have some puzzle on screen and decoding it you have to type correct answer. You can take hints If you want but that will cost you money. You can buy full game if you want to support the developer.
Download From Playstore: https://play.google.com/store/apps/details?id=com.hiddensecrets2.free&hl=en
Click here for All other Puzzles:http://puzzlegamemaster.com/hidden-secrets-2-answers-all-puzzles/
---
Hidden Secrets 2 puzzle 9:
Puzzle: 68747470733a2f2f6d6567612
e6e7a2f23214557783245413
4532175754958705663524d
464669736e75485a34504e32
687070796c58556c31686137
6e3541587a68577a5141
Hint: this is hex string, Try to convert it into text using any online converter, I used ASCII to Hex. Input hex string in hex box and then convert, You will get mega link:
https://mega.nz/#!EWx2EA4S!uuIXpVcRMFFisnuHZ4PN2hppylXUl1ha7n5AXzhWzQA
this is a 153 MB file named 323, which contains lots of lots of folders and sub-folders and sub-sub folders. My PC hanged up, I suggest you to not download if your PC have low ram or processing power. I found out that file is in the folder 323/7/6/7/4/3/9.
This file have base64 text format (Click Here to download text file: HS2 level 9).
So you have to decode it. Use Decode from Base64 format, Choose file or paste text in text box it will give you some png file Like below ( I have compressed it because of bandwidth issues):
When you try to edit photo with a photo editor and play with exposures and color curves you can see numbers as shown in below pic.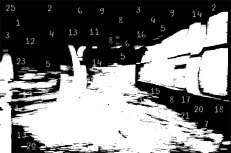 But here is a catch, The png file you have extracted using that online tools does contain another hidden image in it, To view it you have to extract that png file using winrar or similar software. (

Rename .png to .zip and extract using any zip extractor

) it will give you file named 1234567890.png, Which looks like: So you ave to find numbers which are on these dots.
The numbers are- 5 20 8 4 14 5 1 20, The letters corresponding to these numbers are: E T H D N E A T
Anagram it will give you answer: AT THE END
Answer: AT THE END
---
Although, I Have carefully solved this level with all efforts but if you have any doubts, You can comment on post, I will try to help at the earliest.