Guess Their Answer Cheats All Levels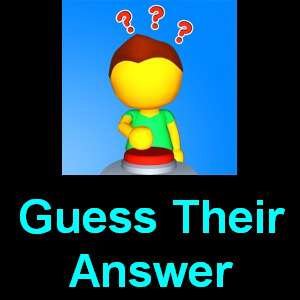 Guess Their Answer game win help and cheats to all levels are provided on this page, this game is developed by TapNation and it is available on App Store.
Guess the most popular answers to gather as many audience members behind you as you can. But be faster than your opponent if you want to win bragging rights.
Here you will find all the answers to Guess Their Answer on this page. Bookmark this page so that you can get help from this single page.
Note: Remember to visit PuzzleGameMaster.com, Or visit this page when you search the internet 'Guess Their Answer Answers' to support us.
Guess Their Answers hints:
Guess Their Answer Name A Superhero: Batman Superman Spiderman Ironman Hulk Thor
Guess Their Answer Name A Sport: Football Basketball Badminton Cricket Tennis Soccer Hockey Baseball
Guess Their Answer Name A Breakfast Beverage: Tea, Orange Juice, Coffee, Milk, Water, Apple Juice
Guess Their Answer Name A Type Of Transport: Cars Plane Bus Bike Train Taxi
Guess Their Answer Name A Sportswear Brand: Nike Adidas Reebok Jordan Puma Under Armour
Guess Their Answer Name Something U Never Leave Home Without: Cellphone Keys Clothes Charger Cars Husband Wife Child
Guess Their Answer Name Somewhere You Can Swim: Swimming Pool Ocean Lake River Pond Bathtub
Guess Their Answer What Can You Find In A Pencil Case: Pencil Pen Eraser Glue Marker Crayons Sharpner
Guess Their Answer Name a friend of Micky Mouse: Goofy, Minnie mouse, Donald Duck, Pluto Daisy Duck, Pete
Guess Their Answer What can you do on your smartphone:  Movie, Play, messages, pictures, Video chat, Music
Guess Their Answer Name a social media Platform: Instagram, Facebook, Snapchat, Facebook, Twitter, Tiktok, Youtube
Guess Their Answer Name a Disney princess: Cinderella, Elsa, Jasmine, Snow White, Tiana, Sleeping Beauty
Guess Their Answer Name A musical Instrument: Drums, Piano, Guitar, Trumpet, Flute, Violin
Guess Their Answer Name something Millionaires shop just for fun: Cars, houses, Phone, Boat, plane, pets
Guess Their Answer Name something you often feel sleepy while Doing: Watch TV, Read, School, Work, Movie, Drinking
Guess Their Answer 

Will be updating more levels Soon…
Thank You for visiting this page, If you need more levels of answers of Guess Their Answer or any of the answers are wrong then please comment, Our team will update as soon as possible.