Faraway 4 Level (1-20) Full Guide And Notes Solution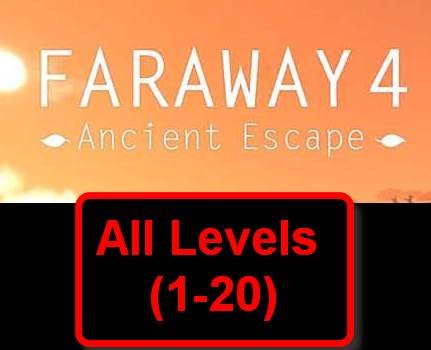 Get complete hints and Notes Of faraway 4 developed by Snapbreak.
Escape the all-new set of locations in Faraway 4: Ancient Escape, After 3 successful games Snapbreak developed Faraway 4: Ancient Escape, you have to escape through various brainstorming levels with a calm environment and soothing music. Unlock all the mysteries and navigate through various levels, If you get stuck then take help from these guides and solutions.
Scroll below to find all levels (1-20)
Download for Android devices: https://play.google.com/store/apps/details?id=com.snapbreak.faraway4
Download for iOS/iPhone: https://itunes.apple.com/us/app/faraway-4/id1436616007
Faraway 4 Solutions (Click for required Level)
If you have any doubt regarding answers or any answer is wrong please let me know, you can also thank me in the comments.